Marvel's Spider-Man, Red Dead Redemption 2 and a whole bunch of other titles have made 2018 an amazing year for gamers.
Aside from Microsoft not having any quality exclusives for the Xbox One besides Forza Horizon 4, the video games industry has had a fantastic 2018. And, with the year drawing to a close, the time has come to celebrate the very best titles released by the most unbelievably talented and passionate developers. If your favourite game of the year happens to be one of the noticeable omissions, take comfort in knowing it has likely been showered in praise and adoration by other outlets.
10. Shadow Of The Tomb Raider
© Square Enix
It's been a poor year for Lara Croft. Alicia Vikander's Tomb Raider is a half-decent romp that overcame the stigma of video game movies being abhorrent, and Shadow Of The Tomb Raider is an immersive finale to the British heroine's origin. Despite all this, 2018 has proven that the female archaeologist is no longer the profitable powerhouse that made her one of gaming's most illustrious icons. With gamers skipping Shadow Of The Tomb Raider in favour of Marvel's Spider-Man, Eidos Montréal's conclusion has had to decrease in price in a desperate attempt to make its money back. But, regardless of it being a financial failure, Shadow Of The Tomb Raider is an intense voyage through the Peruvian Jungle and Mayan temples. From camouflaging Lara in mud to stealthy eliminating goons with the modern reboot's trademark bow, Shadow Of The Tomb Raider is a character defining adventure that makes you feel like a female Rambo. You need to play it!
9. Dragon Quest XI: Echoes Of An Elusive Age
© Square Enix
Unlike Final Fantasy XV, Dragon Quest XI embraces being a traditional JRPG for a niche market. Its turn-based combat will no doubt put off more people than it'll attract, but fans of the franchise won't care as the game is an excellent encapsulation of why they fell in love with the genre and series. While its few issues include its mind-numbing story and plain protagonist, the lush landscapes, the innovative but conventional combat, and the dozens of outfits and weapons make Square Enix's latest instalment an all-consuming escape from reality.
8. SoulCalibur VI
© BANDAI NAMCO Entertainment
After the unrecognisable SoulCalibur 5 nearly ruined the franchise by getting rid of so many fan favourites, SoulCalibur 6 is exactly what the community needed to fall back in love with the fighting juggernaut. It's admittedly disappointing that Bandai Namco did not follow in the footsteps of NeatherRealm by including a three-to-four hour story full of cutscenes, but the game's customisation and Libra Of Soul mode makes up for this shortcoming. While its controls are basic compared to Tekken and Street Fighter V, this makes it an approachable gamble for all fighting game novices, and there is a complexity beneath the surface for the very best to master.
7. Persona 5: Dancing In Starlight
© Atlus
Rather than being a life changing epic with an ambitious narrative that confronts delicate issues in society, Persona 5: Dancing In Starlight is a jovial romp where the toughest decisions are which companion do you want to dance with. Its gameplay is initially frustrating with it being difficult to keep track of everything happening on the screen, but once you become accustomed to the layout and lose yourself in the catchy music, it quickly turns into one of the more satisfying rhythm games. From swaying on the dancefloor to hanging out with the Phantom Thieves backstage, Persona 5: Dancing In Starlight is a rewarding experience brimming with fanservice.
6. A Way Out
© Electronic Arts
A Way Out is a mandatory co-op adventure with a tone somewhat reminiscent of Tango & Crash. You and a mate take up the roles of Vincent and Leo to escape prison and bicker in the wilderness. Although the idea of being forced to play with someone is annoying, Josef Fares' debut title wouldn't have succeeded any other way. With a plethora of unique approaches to take that vary from serious to light-hearted, A Way Out is an immensely replayable adventure that is complimented by expert direction. There's a dozen mini-games for you and your friend to compete in, plus a ton more that require full co-operation to properly execute. This results in a charming narrative where the conclusion is ultimately dependent on how much you and your plus one have grown as a team.
5. Detroit: Become Human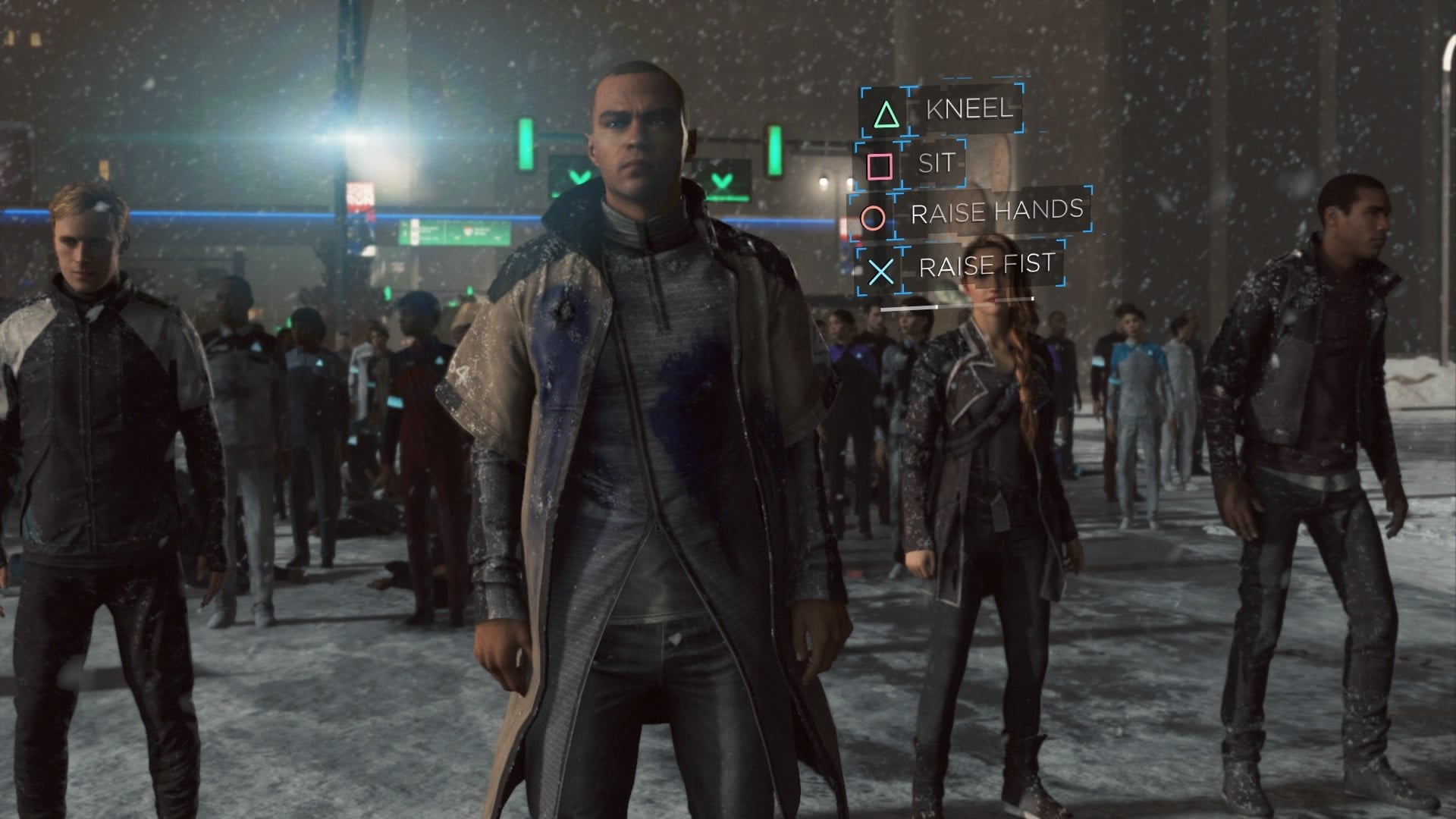 © Sony Interactive Entertainment
The video games community always ridicules David Cage for being a pompous nitwit who relies on the biggest clichés to coerce players into feeling all sorts of emotions, but Detroit: Become Human is actually a fantastic experience and one of the PS4's better exclusives. Thanks to incredible performances combined with masterful direction, Cage's futuristic drama is gripping and provocative. Although its tackling of contemporary issues relating to domestic violence, racism and equality is occasionally ham-fisted, the action and characters make you want to continue playing. With a dozen choices for you to make and outcomes to discover, Detroit: Become Human is an everchanging experience that continuously surprises.
4. Marvel's Spider-Man
© Marvel/Sony Interactive Entertainment
Marvel's Spider-Man is undoubtedly the webcrawler's best outing in a video game. Its portrayal of Peter Parker is charming and evocative for both young adults and older individuals, and its New York City is an eerily realistic playground brimming with comic book and movie references. The webslinging is simple but engaging enough to make you feel like an acrobatic braggart that would win gold at the Olympics, and the story's climax has an emotional goodbye that succeeds in making even the toughest fellas shed more than a single tear. For the inevitable sequel, Insomniac need to take more risks with the story and fill the city that never sleeps with content that is way more riveting than having to capture pigeons and take photos of so-called prominent landmarks. If the creators of Spyro, Ratchet and Clank, and Resistance achieve this, then Spider-Man will step out of the dark knight's lofty shadow and leave him playing catch-up.
3. Divinity: Original Sin 2 - Definitive Edition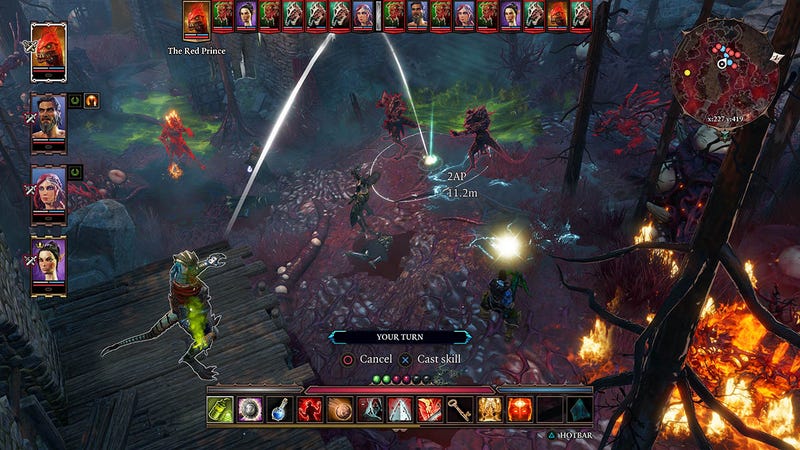 © Larian Studios
Yes, Divinity: Original 2 was released in 2017, but the Definitive Edition only came to consoles this year. If you're one of those people who are put off by its isometric view, you need to put your shallow grievances aside and play Larian Studios' masterpiece right away. Along with the extensive character creation suite and engaging narrative, there's a limitless amount of freedom. No matter what race you choose at the beginning or the manner in which you handle dilemmas, the game always rewards you with quests and encounters. There's more than a hundred hours of content, and each playthrough is different thanks to the plethora of game-changing outcomes.
2. God Of War
© Sony Interactive Entertainment
Cory Barlog and the entire team at Sony Santa Monic deserve all the sweet praise they've received for God Of War. While before Kratos was an over-the-top parody of Greek warriors driven by revenge, now he's a complex father capable of displaying a varied range of emotions. This not only shows the significant progression of the once Spartan commander, but also the massive improvement in narratives and characterisation across the video games industry. In addition to making Kratos a vulnerable father, God Of War is also a significant improvement on its ancestors thanks to the over the shoulder camera putting you so much closer to the disorderly action. All of this combined with its stunning visuals, powerful antagonist and epic soundtrack has cemented the ashen-skinned Spartan's return as one of the PS4's best exclusives.
1. Red Dead Redemption 2
© Rockstar Games
Red Dead Redemption 2 is an unbelievable marvel. Yes, the story's fantastic, Arthur Morgan is Rockstar's greatest protagonist, and the visuals are gorgeous, but what makes Red Dead Redemption 2 the best game of 2018 is the way it surpasses all other open-world titles. Rather than abiding by Ubisoft's gospel which states that every open-world video game needs to be stuffed with monotonous fetch quests, a dozen items to find, and an obnoxious amount of towers to climb, Rockstar created an unpredictable landscape brimming with side endeavours and eccentric strangers. Not only that, but even the most minimalist choices you make impact the story and Arthur's redemption due to seemingly unimportant civilians remembering if you were a noble cowboy or a wicked scoundrel. All of this makes Rockstar's latest title an undeniable masterpiece, regardless of whether you enjoy or loathe its predatory online component.
Have something to tell us about this article?