Rockstar is killing Red Dead Redemption 2's online mode by replicating their greatest antagonist's obsession with money.
Rockstar has recently flipped the on switch for their gold bars shop. Although it was always inevitable that Red Dead Redemption 2's online portion would be spoiled by microtransactions, it doesn't mean that Rockstar and Take-Two's overt attempt at robbing you in broad daylight is justifiable. Yes, they've given us all an amazing single-player experience that is 2018's best game, but that doesn't mean they have the right to imitate Dutch Van Der Linde's demand for more, more and more money.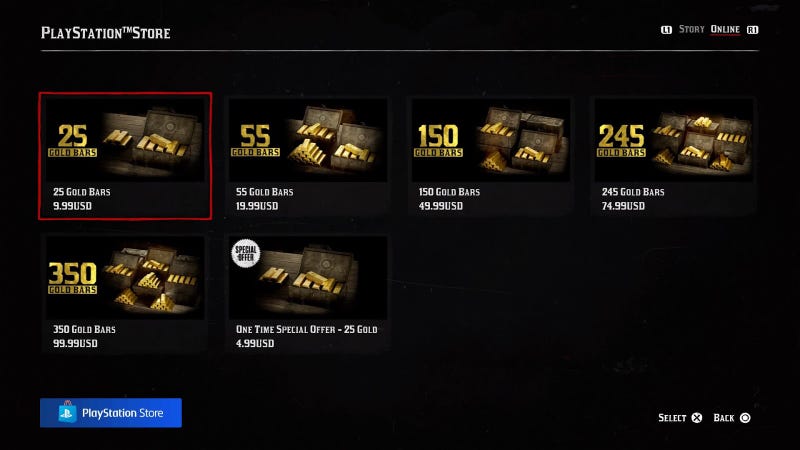 © Rockstar Games
Red Dead Online has been controversial since the moment it launched. Players have criticised it for being an unrewarding slog with barely anything to do, and while Rockstar has confronted these complaints by slightly improving the economy and the cash you earn for completing missions, the experience remains a massive grind. With the arrival of microtransactions, it's blatantly obvious that Take-Two and Rockstar's priority isn't giving cowboys a satisfying meander through the wild west, but rather to loot everyone's pockets.
The microtransactions that everyone is understandably annoyed by are massively overpriced. 25 gold bars cost $9.99, 245 are worth $74.99, and 350 (the largest amount you can purchase) are priced at an almost laughably insulting $99.99. Rockstar's biggest and most deluded fans will defend this by insisting that Red Dead Online is still a beta and that no one is forced into wasting an extravagant amount of real-life cash, but the in-game purchasable gold is ruining everyone's experience.
While it's true that Rockstar has slightly lowered the prices of weapons and increased the rewards players earn for completing missions, Red Dead Online is still a grind in which the hunting and selling of fish can no longer be exploited for easy dough. This makes any amount of time spent in the online world feel like a complete waste, as you would need to sacrifice your life and all the other video games available to be able to grind for anything half-decent. Don't be duped into believing any lies from Rockstar about this being a purposeful design choice to immerse players in the time period. Rather than for the good of the game and benefit of the players, Rockstar and Take-Two have made grinding an intrusive hinderance so gamers will be tempted to just fork up the cash so they can venture beyond the nitty gritty and enjoy what was promised.
© Rockstar Games
Only there's barely anything to enjoy. They've slightly balanced the economy, but Rockstar and Take-Two have still not fixed the alarming rate at which players are being disconnected from the servers, unintentionally leaving their brothers behind while in the midst of PvP modes or in a massive war against the law in free-roam. Instead of fixing this game-breaking issue, Rockstar and Take-Two were more concerned with taking money from as many players as possible before they inevitably venture off to the next big release.
Rockstar is very much replicating the downward spiral of Dutch Van Der Linde. They gave us a beautiful world with the single-player campaign, promised an online paradise we would never want to leave, and have since lost sight of their goals and morals thanks to their greed. They keep promising that Red Dead Online will only get better, but much like Dutch with Tahiti, their vision is blinded by an incessant lust for money. Like Arthur, John, Charles and Sadie, players should turn their backs on Rockstar for allowing themselves to be ruined by the corporate encapsulation of Micah, Take-Two Interactive.
Have something to tell us about this article?