Inflation was negative for a second successive month in October, at -0.1%, as price cuts for food and the fading impact of student fee rises kept a lid on the cost of living.
Richard Campbell, of the Office for National Statistics (ONS), said inflation, as measured on the consumer price index (CPI) had been hovering at around zero since the beginning of 2015.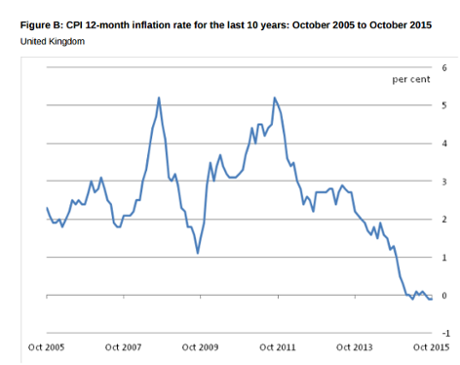 "CPI remained steady at -0.1% in September, with stronger clothing price growth being offset by food and alcohol and tobacco, as well as a smaller impact from rising tuition fees. This is the ninth month running that CPI has been at or very close to zero," he said.
It is the first time two successive monthly readings have been below zero since the CPI started to be calculated in 1996.
The ONS said the largest increase in prices came from sharper than expected increases for clothes, especially coats, between September and October. But that was more than offset by a 0.4% fall in food prices over the month, as supermarket price rivalry continued unabated, and a decline in the price of wine, spirits and tobacco.
The retail price index, used for uprating pensions and rail fares, was 0.7% in October.
Chris Williamson, chief economist at data provider Markit, said the continued weakness of price growth supported the Bank of England's recent decisions to keep interest rates at their record low of 0.5%.
"UK inflation remained in negative territory in October, helping shore up the Bank of England's belief that there's no rush to start raising interest rates," he said. "Inflation has been completely absent from the UK economy since February as low oil and commodity prices, plus a stronger currency, have helped bring down prices."
Economists expect inflation to rise in the coming months, however, as the impact of the sharp declines in oil prices at the end of 2014 drop out of the calculations.
This article was written by Heather Stewart, for theguardian.com on Tuesday 17th November 2015 10.32 Europe/Londonguardian.co.uk © Guardian News and Media Limited 2010