Inflation in Britain has turned negative for the first time in more than half a century, giving a boost to household finances and bolstering expectations that interest rates will remain at a record low for the rest of this year.
The Office for National Statistics said its consumer price index measure of inflation was down 0.1% in April from a year ago. That compared with the inflation rate at zero in February and March.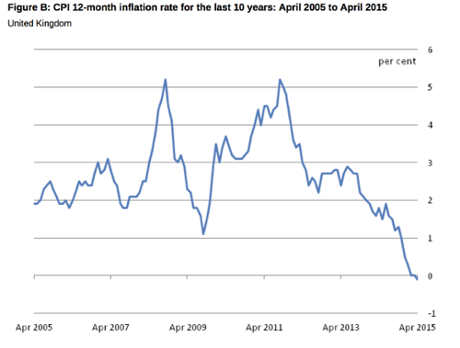 Statisticians said this was the first time the CPI had fallen since official records began in 1996 and the first time since 1960 based on comparable historic estimates.
The ONS said the main downward effect on price changes in April came from air fares and ferry tickets. That was probably down to the earlier timing of Easter holidays this year and so transport prices rose by much less this April compared with a year ago. The largest upward effect came from motor fuels, which rose this April but fell between March and April in 2014.
The Bank of England had already forecast inflation would turn negative at some point this year but predicted it would soon pick up again. Economists agree there is little reason to fear the UK will fall into outright 1930s-style deflation, which is regarded as a sustained fall in the cost of living, not a temporary decline below zero.
Commenting on the figures, Chancellor George Osborne said:
Today we see good news for family budgets with prices lower than they were a year ago. As the governor of the Bank of England said only last week, we should not mistake this for damaging deflation.

Instead we should welcome the positive effects that lower food and energy prices bring for households at a time when wages are rising strongly, unemployment is falling and the economy is growing. Of course, we have to remain vigilant to deflationary risks and our system is well equipped to deal with them should they arise."
The BoE has a government-set target for inflation at 2% and the governor, Mark Carney, has had to send open explanatory letters to Osborne explaining why the index is so far off the mark.
In the last letter, published a week ago, Carney said inflation should "pick up notably" once earlier declines seen in commodity prices start to drop out of the annual comparison towards the end of this year.
Economists were also quick to stress that the UK was not on the brink of outright deflation and noted the slowdown in inflation was largely down to global oil prices, which had tumbled but are now rebounding.
Reacting to the drop in prices, Alan Clarke, economist at Scotiabank in London said:
Enjoy it while it lasts because there is a good chance that inflation will be back in positive territory next month. The emphasis is largely symbolic and it shouldn't have come as a surprise to most people."
Inflation well below the Bank's target means Carney and his committee of policymakers are under little pressure to raise interest rates from 0.5%, where they have been for more than six years.
Ian Stewart, chief economist at consultants Deloitte commented:
Falling prices raise consumer spending power and help keep interest rates low. This looks like the mild and benign variety of deflation which is good news for consumers and for growth."

This article was written by Katie Allen, for theguardian.com on Tuesday 19th May 2015 10.08 Europe/London
guardian.co.uk © Guardian News and Media Limited 2010