Hidden image appears on Google Maps as Android mock Apple.
Easter eggs come in many guises these days, once the domain of DVD menus they can now be find all over the place, from the backgrounds of movies to hidden levels in computer games.
Google Maps has long been the source of hidden images, usually from clever people setting them up before the satellite images were taken but yesterday it was revealed that the company themselves had implanted a hidden image that would send the internet into meltdown, or did they?
The image in question features the iconic Android logo doing something rather unsavoury to an apple, but this isn't just any apple, this is the Apple logo. In fact the image shows the Android "relieving itself" on the Apple logo, something that is sure to get their rivals fired up for an all out war.
The image can be found at 33°30'52.5"N 73°03'33.2"E, these co-ordinates take you to a small area of fairly barren land in the south of Rawlpindi in Pakistan. Initially you would be inclined to think that there was nothing special about this sector of the map, that is until you zoom in enough to lose satellite images.
You can view the image in all it's glory below.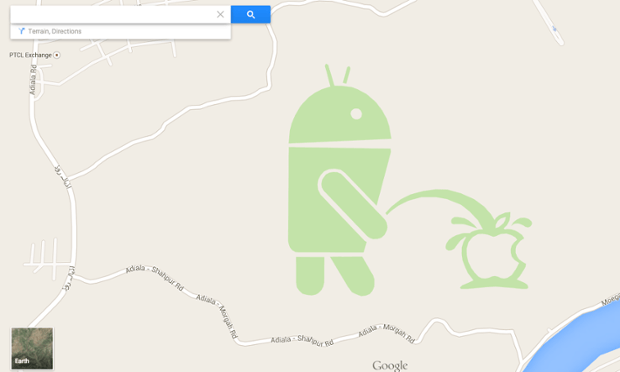 As we're sure you will agree it's far from subtle but is this the work of Google or a fanboy prank? Only time will tell but it does appear Google are taking it seriously after the announced they were "looking into the issue".
It does seem likely that this was uploaded by a member of the public using Google Maps editor functions as only a few miles east of the image another has appeared with the simple message "Google review policy is crap".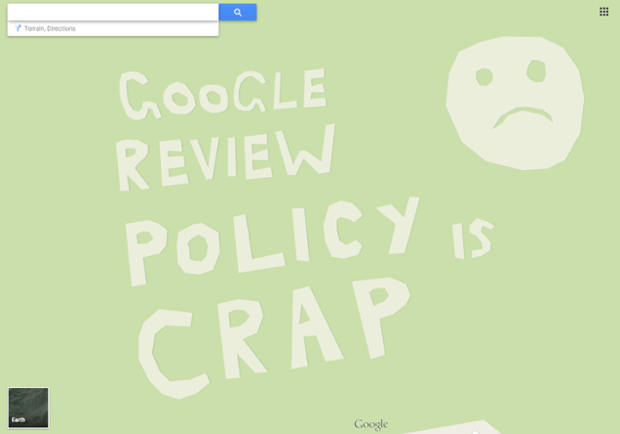 Whether this is the last we'll hear of these goings on remains to be seen but we would love to see what comedy images our readers may have found on google maps.
SEE ALSO: Controversial BBC Three plans delayed
SEE ALSO: PS4 price slashed to £299.99
SEE ALSO: Total War: Warhammer announced with flashy new trailer
SEE ALSO: Adventure Time: Finn & Jake Investigations coming soon
SEE ALSO: All Nippon Airways reveal Star Wars planes
Have something to tell us about this article?