Suicide Squad director releases first Joker image for 75th Anniversary.
Fans have been eagerly awaiting a glimpse of Jared Leto (30 Seconds to Mars, Requiem for a Dream, Dallas Buyers Club) as The Joker and the wait is finally over. Suicide Squad director David Ayer (Fury, The Fast and the Furious, End of Watch) decided to celebrate the 75th Anniversary of the legendary villain by releasing the following image.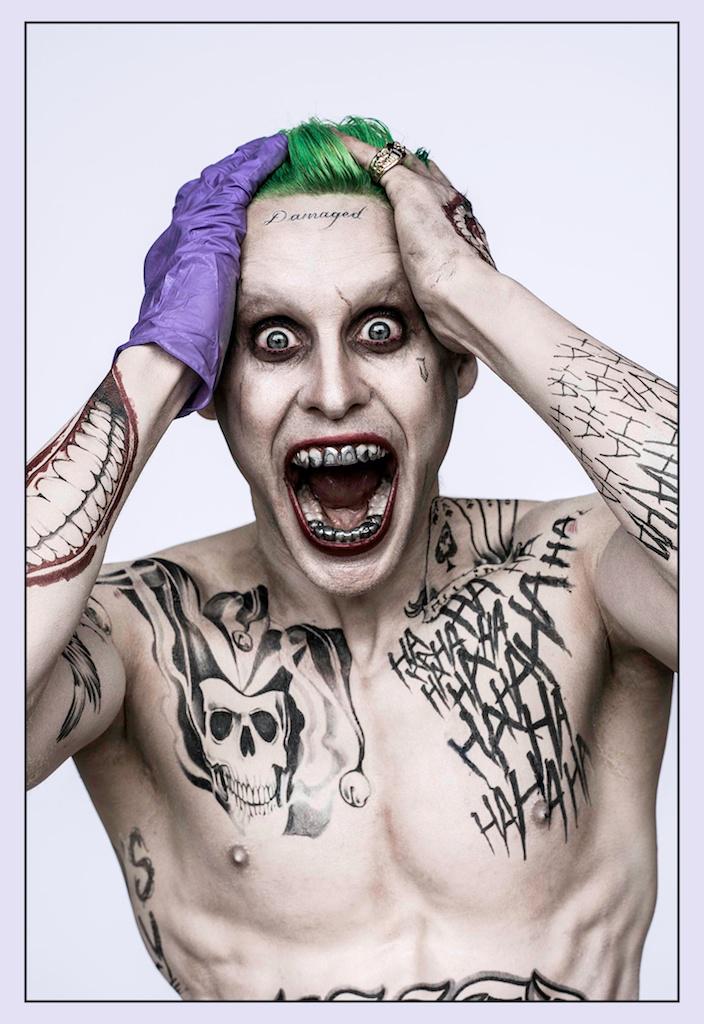 As we're sure you'll agree this is a very different look for The Joker from those that we have seen in previous movies but it certainly has hints to many classic incarnations. The Purple glove is clearly a nod to the more old school look while his pose is taken straight from Alan Moore's classic The Killing Joke. The tattoo's incorporate many classic artworks including the HA HA HA lettering from the same Killing Joke image. Perhaps most intriguing is the classic Joker smile on his right forearm, something that many fans have already pointed out is missing from Leto's face.
Suicide Squad will see Leto joined by Margot Robbie (Neighbours, The Wolf of Wall Street, About Time) as Harley Quinn, Jesse Eisenberg (The Social Network, Adventureland, Zombieland) as Lex Luthor, Will Smith (Independence Day, Men in Black, I Am Legend) as Deadshot and Jai Courtney (Divergent, Jack Reacher, A Good Day to Die Hard) as Captain Boomerang.
The movie will follow the exploits of this group of supervillains as they are recruited by a secret government agency to take part in Black Ops missions to earn clemency from their prison sentences.
This promises to be something wholly different from any comic book movies we've previously seen and we can't wait for it to hit the big screens.
Suicide Squad will be released on the 5th August 2016
SEE ALSO: Google Maps taunt Apple with hidden image
SEE ALSO: Controversial BBC Three plans delayed
SEE ALSO: Adventure Time: Finn & Jake Investigations coming soon
SEE ALSO: All Nippon Airways reveal Star Wars planes
SEE ALSO: Batman Vs Superman: Dawn of Justice gets its first trailer
Have something to tell us about this article?