We countdown the wrestlers from WWE, NXT and TNA that have impressed us the most this year.
There are plenty of professional wrestlers on the circuit, some are given big pushes by their promoters and others seem to fall by the wayside, often unfairly.
Our list takes a look at those wrestlers who have given their all and really made a positive impact on the wrestling scene this year. This isn't a countdown of the "biggest" or "most popular" but those who have shown true talent and passion.
5) Charlotte - NXT
Charlotte Flair has been a real breath of fresh air on NXT this year. The NXT Women's Champion has shown that womens wrestling is a lot better than WWE's Diva's would have us believe. BOth technically brilliant and incredibly strong, Charlotte has dominated NXT for a while now. What will become of Charlotte in 2015? Well, many believe that she will finally make the push up to WWE although her fans are concerned by what that will mean. You only have to look at her former NXT opponent Paige to see that WWE creative don't appear to know what to do with a talented female wrestler anymore.
4) Bram - TNA
Bram exploded onto TNA back in May and has since sent shockwaves throughout the company. Hailing from Kings Lynn, England, Bram has brought some fresh aggression to the the Hardcore Wrestling scene, busting open his opponents with sheer brutality. Bram's position as the self proclaimed "King of Hardcore" is seemingly deserved as he has earned himself a feud with Hardcore legend and "Innovator of Violence" Tommy Dreamer. Expect a lot more blood and bruises from Bram in 2015.
3) Dean Ambrose - WWE
Dean Ambrose has made a huge impact on the WWE in very little time, initially rising from the ranks of NXT and making his WWE debut as part of The Shield in 2012. Over the next 2 years The Shield grew in stature until they came to an abrupt end, with Seth Rollins betraying his team mates in June 2014 at the Payback PPV. Since then Ambrose has developed as one of the must see wrestlers on the WWE roster. Not content with being a technically great wrestler he has also proved that he is a master of the promo, spinning some great storylines in a style reminiscent of Mick Foley at his best. It is this expert character portrayal coupled with his exciting and often physically demanding matches that earn him a place in our top five.
2) Gail Kim - TNA
If you want the very best in Womens wrestling then move away from WWE. NXt is brilliant but TNA have the Knockouts Division. 2014 has been a great year for the Knockouts with the domination of the powerful Havok, the return of the ironically named Beautiful People and the continuing feud between current champion, the incredibly talented, Taryn Terrell and our runner up Gail Kim. Once upon a time Gail Kim was the first ever WWE Diva's Champion and Pro Wrestling Illustrated's Number one Female Wrestler in 2012. Since she joined TNA in 2005 she has pioneered The Knockouts Division, making it a high impact, high flying and intense division that refuses to play second fiddle to the men. It is always exceptionally entertaining to watch Gail Kim wrestle and she never fails to garner gasp and sheers from the audience.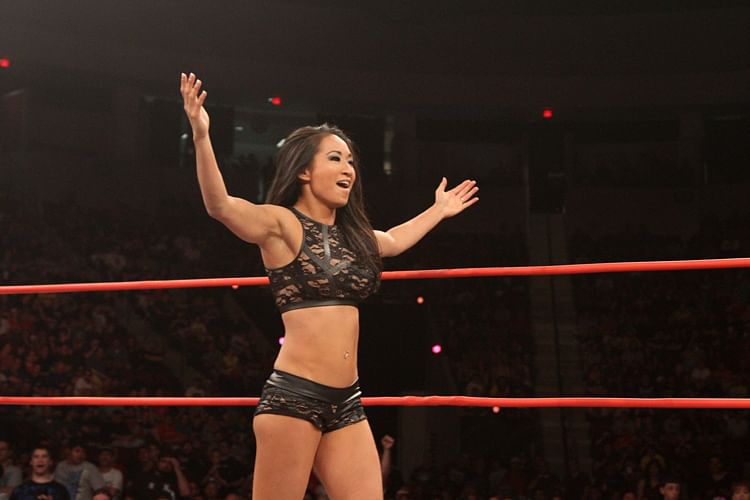 1) Sami Zayn - NXT
Sami Zayn is the ultimate professional, whilst only having been with NXT since 2013 he had previously travelled the world in a career spanning ten years. In his former promotions he has been known as El Generico, Rami Sebei and Stevie McFly and has won many top titles. His rise in NXT can only be described as meteoric, he has gained huge crowd support with his spirited challenges for the NXT Title, always falling at the final hurdle, until December 11th when he finally won the promotions biggest prize. His high flying acrobatics and big moves have cemented his character into the minds of the NXT fans and it is rumoured that he will make the step up to WWE next year, along with his friend and biggest challenger Adrian Neville. It would be pretty safe to assume that his WWE persona would be similar to that of Daniel Bryan, an underdog who is also a crowd favorite. Whatever happens we sincerely hope he used correctly and given the push he deserves as he comes across as one of the true nice guys with talent to burn.
So those are the wrestlers who have made an imprint on us this year but who will make the biggest impact in 2015? Will Sami Zayn continue to rise? Will Dean Ambrose reach the Championship race? Will someone new such as Kevin Owens or Finn Balor take up the gauntlet? Will Damien Sandow finally dump The Miz? We can't wait to find out.
Have something to tell us about this article?