Convergence has come to our mobile phones, laptops and TV screens – and now it is the turn of Britain's fragmented communications industry.
BT revealed last week that it was considering buying the mobile network O2, and is also in early-stage talks with the UK's largest network, EE. Investment bankers are alert to the prospect that BT's dive back into mobile, 13 years after spinning off the company that became O2, will trigger copycat mergers across the telecoms and pay-TV sector. The much-hyped concept of communication supergroups offering everything from Premier League football rights to internet on the go, already established in continental Europe, seems about to become a reality in the UK.
"The horse has bolted out of the stable door," says Deutsche Bank's telecoms analyst Robert Grindle. "The market now is going down a convergent route. The competitive forces have been unleashed and things are going to have to shake out."
The landscape will change for consumers too. Not every household is interested in a "quadplay" bundle, which means buying TV, mobile, home phone and broadband from the same company. But customers could benefit in other ways. Firstly, analysts are forecasting a price drop: as well as giving away its BT Sport channels to customers that take its broadband, BT could soon be adding discounted mobile connections to that package. BT's move back into mobile could also help those waiting for a faster internet connection as competitors retaliate. Rivals such as Vodafone and TalkTalk may choose to hit back where BT is strongest, by stepping up investment in their own superfast fibre networks.
The big mobile, broadband and pay-TV companies, from Sky to Vodafone, must now consider their options. Most have already begun encroaching on each other's lines of business. Below, we set out what the future could hold for the eight major players.
Vodafone
It may rank third by customers, but Vodafone seems the most determined of the UK's four mobile networks to stay in the race. It has been busy buying broadband and TV operators in Europe, and laying fibre-optic cables in Spain, Portugal, Italy and Ireland. In the UK, Vodafone's 20 million customers will have broadband and a TV set-top box if they want one from next spring. "If BT comes more into mobile then we will go more into consumer broadband," Vodafone boss Vittorio Colao warned days before BT's talks with O2 were confirmed.
For broadband, Vodafone will use the fibre it acquired when it bought the UK network built by Cable & Wireless, which so far has been reserved for business customers. This only covers half of telephone exchanges. To reach homes, it may lay its own fibre, or rent them wholesale from BT. For TV, Vodafone is thought likely to join forces with Sky, distributing the satellite broadcaster's Now set-top box.
Could this lead to a full-blown corporate wedding? Rupert Murdoch would have to part with his 39% stake in Sky. Analysts at Espirito Santo say Vodafone, currently valued at £60bn, would need £20bn to take full control – a 30% premium to Sky's current valuation.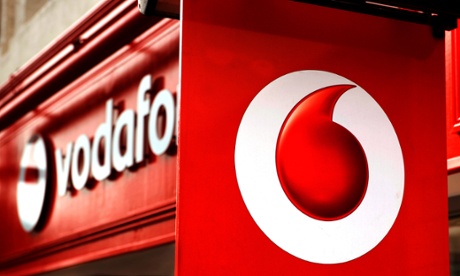 Sky
"We're going to be led by what we see the customer wants," said Sky boss Jeremy Darroch last month. So far, his verdict is that customers are not clamouring for quadplay. But Sky is thinking about mobile and broadband. It is reportedly discussing renting airtime from Vodafone, for a Virgin Mobile-style virtual network where its brand piggybacks on another company's infrastructure. A joint venture in York with TalkTalk has seen the pair invest £10m between them and team up with specialist CityFibre to build an ultra-high-speed network – 1 gigabit per second – that will take fibre-optic cables all the way to the door. Barclays analysts believe this model could be rolled out to Britain's 47 second-tier cities, which include Inverness and Bristol, at a cost of £1.4bn. Not cheap, particularly with the next Premier League football rights auction looming.
Virgin Media
Virgin is now part of US media tycoon John Malone's Liberty Global empire, the largest cable firm in the world with operations in 14 countries. That means Liberty owns a virtual network, Virgin Mobile, but no masts in Britain, at a time when the growth of mobile internet use is challenging the business model for mobile virtual networks (MVNOs). MVNOs made a profit by bulk-buying minutes from operators and then reselling them at a profit to consumers – but making a margin from selling on expensive data for mobile internet usage is much more difficult. In a note, Macquarie analyst Guy Peddy said: "In our view, current MVNO models are breaking." Merging with Vodafone could offer a solution, but so far rumours of an alliance remain just that.
BT
If BT balks at EE's potential £12bn price tag and fails to agree terms with a (probably less expensive) O2, there is a fallback plan. The former state-owned telecoms group bought a chunk of spectrum in the 4G auction. It plans to combine this with its home Wi-Fi networks and special miniature masts known as femtocells, installed on telephone exchanges and on its street cabinets, to create a patched-together mobile network.
BT has also agreed a deal to rent airtime from EE. Under this cobbled-together system, dubbed an "inside-out" network, a BT customer's mobile call would begin at home on Wi-Fi, move into the street using BT's femtocells broadcasting over its 4G spectrum, and continue in the car using EE's masts. For a fraction of the cost of building a fully fledged network, BT is threatening to introduce a fifth player in the market. Such a move could send prices and profits tumbling. Good news for consumers, bad news for networks. No wonder EE and O2 are keen to sell.
TalkTalk
With no fibre-optic network, no mobile phone masts and no valuable pay-TV content to call its own, TalkTalk is looking increasingly stranded in a converging world. There is a plan to extend its fibre pilot in York to other cities, if the trial proves a success. But Peddy at Macquarie says TalkTalk doesn't need a network when it can promise the cheapest prices in the market. "TalkTalk is a value play. Infrastructure ownership is less relevant when price is the major driver." He believes Ofcom will ensure competition remains healthy by regulating the wholesale price of BT's network, which is a key piece of infrastructure for Sky and TalkTalk, which piggyback on it for their broadband offering. BT's network remains a monopoly in the 50% of the country where Virgin Mobile's cables do not yet reach.
O2
Mobile businesses are looking to move into broadband because their revenues are in decline, pushed down by a number of factors including EU price controls; widespread use of apps like Facebook or WhatsApp for phone messaging; and accessing the internet over Wi-Fi networks. While revenues for the broadband industry have grown by 4-5% a year over the last two years, mobile dropped by 3% in 2013, according to media consultancy Enders. O2's spanish owner, Telefónica, has been busy selling assets in Europe and if BT does not bite there are other buyers, including Hong Kong-owned Three. James Barford at Enders comments: "One major trade sale alternative would be in market consolidation and I would observe that Three Ireland bought O2 Ireland."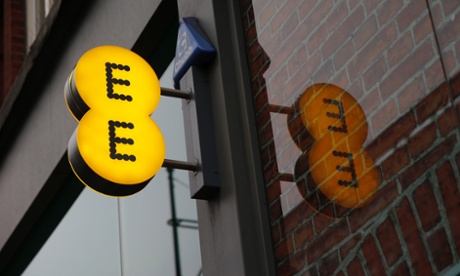 EE
With 25 million customers, EE has the largest subscriber base in the UK, owns more spectrum than any other network, and has the best 4G service. Analysts put its value at £12bn, which could prove a turn-off for BT. The network's owners are Deutsche Telekom and French-owned Orange, and both are keen to cash in. If no buyer can be found, floating on the London Stock Exchange remains an option. In the meantime, EE is not standing still: in October it launched a set-top box, EE TV, which it will sell alongside a fibre broadband service rented from BT.
Three
Owned by Hong Kong conglomerate Hutchison Whampoa, Three is the UK's smallest network with 8 million customers. But its owner has deep pockets and has been spending, buying O2 in Ireland this year and Orange Austria in 2012. In Britain the most obvious merger is with O2, but this would be complicated because Three shares masts with EE while O2 has a mast-sharing deal with Vodafone. Otherwise, like TalkTalk, the challenger network will have to rely on lower pricing as a selling point.
AT A GLANCE
BT
UK customers: 9.8 million for home broadband and phone
Products: TV, broadband, land line
SKY
UK customers: 11.5 million
Products: TV, broadband, land line
VIRGIN MEDIA
UK customers: 4.9 million
Products: TV, broadband, land line, mobile
TALKTALK
UK customers: 4.2 million
Products: TV, broadband, landline, mobile
EE
UK customers: 25 million
Products: TV, broadband, mobile
O2
UK customers: 22 million
Products: mobile
VODAFONE
UK customers: 20 million
Products: mobile, soon to launch broadband and TV
THREE
UK customers: 8 million
Products: mobile
This article was written by Juliette Garside, for The Observer on Sunday 30th November 2014 00.05 Europe/London
guardian.co.uk © Guardian News and Media Limited 2010
Have something to tell us about this article?