What happens when you look up "Labour leader" on Google? A flurry of muddled entries on a host of former party chiefs – with wrong pictures to boot – but not much on Jeremy Corbyn.
Users discovered little sign of the incumbent leader when they asked the world's biggest search engine who he was.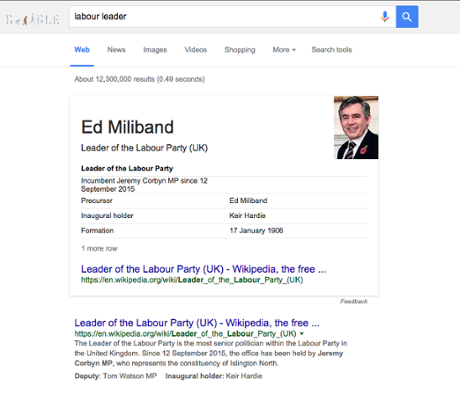 Instead, there was a confused combination: Google said the leader was Ed Miliband – who stepped down in May – accompanied by an image of the former prime minister Gordon Brown, whose party lost the general election in May 2010.
When the Guardian tried to replicate the results, we found the same entries on other browsers including Google Chrome, Safari and Firefox.
On social media, users were bemused:
Similarly mismatched results caused further confusion:
On Google Images, the results were just as bad – with top search results showing David Miliband as Labour leader: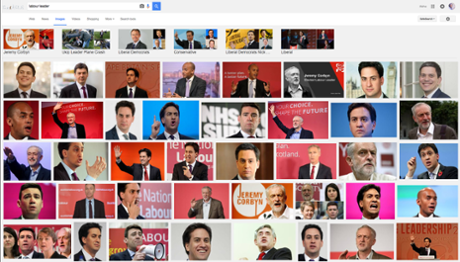 The inquiring mind was even offered up a result showing Sir John Major, the Conservative prime minister from 1990-97, when "Tory leader" was searched for.
However, all is well for Tim Farron, the Lib Dem leader, with Google offering the correct image and name when he was searched for: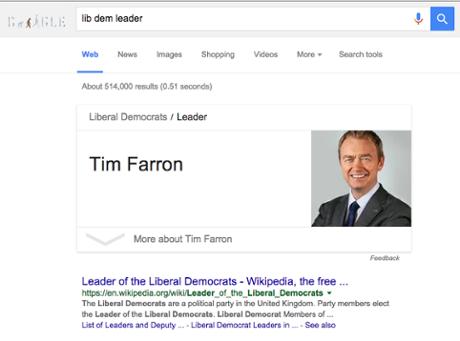 A spokesperson for Google said: "We've issued a three-line whip to get this fixed as soon as possible."
This article was written by Aisha Gani, for theguardian.com on Tuesday 24th November 2015 16.33 Europe/London
This article was amended on Tuesday 24 November 2015 to remove a tweet.
guardian.co.uk © Guardian News and Media Limited 2010