Inflation in Britain has turned negative for the second time this year, easing pressure on the Bank of England to raise interest rates from their record low.
Official figures showed inflation was -0.1% in September, down from zero in August, pulled lower by cheaper fuel prices. Economists had expected the rate as measured by the consumer prices index (CPI) to hold at zero, according to the consensus in a Reuters poll. But some had predicted inflation could dip into negative territory.
Negative again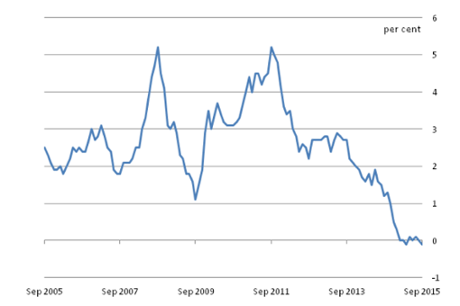 Inflation has been at, or close to, zero since February and dipped into negative territory in April this year when prices fell for the first time in more than 50 years.
Commenting on the latest figures, Richard Campbell, head of CPI at the Office for National Statistics (ONS) said:"Though CPI has turned very slightly negative this month, the bigger picture is of a broadly flat inflation rate since the beginning of the year.
"The main downward pressures on CPI came from clothing, which rose more slowly this September than in recent years, and falling petrol and diesel prices."
There was also some downward effect from household energy bills after a price cut from British Gas.
Even stripping out more volatile prices, such as fuel and food, the so-called core measure of inflation undershot expectations in September. The ONS said the rate held at 1.0%, defying a forecast for a 1.1% reading.
While some have described negative inflation as a sign of economic fragility, the UK chancellor, George Osborne, sought to play down fears that the UK had slipped into deflation.
The BoE is set an inflation target of 2% by the government but the rate has now been below that since the start of 2014. The low rate reflects sharp falls in global commodity prices, from food to fuel. The ONS said food prices fell by 2.5% and prices of motor fuels fell by 14.9% in the year to September.
Against that backdrop, interest rates have now been held at a record low of 0.5% for more than six years. Economists see little chance of them being raised until well into 2016.
At the last meeting of the Bank's monetary policy committee (MPC) last week, only one member, Ian McCafferty voted for a hike.
"Inflation should still see some rebound when the anniversary of the fall in oil prices in late 2014 is reached. But the path back to the MPC's 2% target looks like it is going to be a slow one," said Martin Beck, senior economic advisor to forecasters, the EY ITEM Club.
"Overall it is not difficult to see potential barriers to inflation making further progress back to the 2% target. Further weakness in the global economy could lead to renewed falls in oil and other commodity prices ... So our central case for no rise in Bank Rate until the third quarter of next year remains."
The British Chambers of Commerce is urging the Bank not to rush into raising borrowing costs any time soon given signs a global economic slowdown is being felt by UK businesses.
"Low inflation boosts disposable income and supports living standards, thus helping the economic recovery. However, recent trade and manufacturing figures have been disappointing, and ongoing global uncertainties, especially in the emerging markets, reinforce our view that the recovery is fragile, and no risks should be taken," said the group's chief economist David Kern.
"With inflation unlikely to rise in the short term, the MPC should keep rates at the current low level until well into 2016."
The Bank's governor, Mark Carney, has previously told Britons to enjoy low inflation while it lasts and reassured them the UK is not headed for all-out deflation, where widespread price falls become entrenched. The government has repeatedly emphasised the boost to household budgets as wages finally rise faster than prices.
However, economists warn some of the factors keeping inflation low could fade in coming months.
"This is likely to be as low as we go," said Alan Clarke, economist at Scotiabank. "Forecourt prices seem to be bottoming out."
"Even though wages are likely to climb further from here, CPI inflation will probably rise slightly faster, so this is probably as good as it gets for the consumer."
This article was written by Katie Allen, for theguardian.com on Tuesday 13th October 2015 10.02 Europe/Londonguardian.co.uk © Guardian News and Media Limited 2010