On Thursday 1 October, the first tickets for Glastonbury go on sale. Use these tips to beat the mad rush
October is upon us. A month in which we celebrate mid-autumn, pre-winter, Halloween, Eminem's 42nd birthday and International Walk to School Month. Most importantly, however, is the official arrival of Glastonbury tickets.
For those planning on embarking on the grey hair-inducing challenge on 1 and 4 October, we have a tactical, practical and emotional guide to getting your hands on Glastonbury tickets, equipped with its very own restorative and reinvigorating Spotify playlist. Best of luck!
Registration
First thing's first: Glastonbury 2016 registration closed at 9am on Tuesday 29 September – so if you failed to apply for this there will be no opportunity to resubmit a registration until after both ticket sales. Instead, please donate £228 to International Walk to School Month.
Ticket information
Your first opportunity to purchase tickets is the coach and ticket package.
Date of sale: 1 October
Time: 7pm
Fee: £50 deposit plus the full price of your coach ticket
Number of tickets: 15,000
The next round is standard tickets - festival tickets without coach travel included:
Date: 4 October
Time: 9am
Number of tickets: 120,000
What should I do?
Make glastonbury.seetickets.com your homepage (It is recommended that you only have one tab open rather than many to enable an easier, speedier process).
You will need your registration number and the postcode for each person for whom you are booking a ticket.
Your bank card: UK tickets can only be bought by debit card and international tickets can only be bought by Visa credit card or MasterCard credit card.
For those buying coach bundles, you will need to know the correct coach route as specified below.
How many tickets can I purchase?
How much money will I need?
Festivalgoers will be able to book a ticket by paying a deposit, with the balance due in spring 2016.
Tickets cost£228 in total
£5 booking fee per person
Deposits of £50 per person payable on 5 October
Children aged and under 12 do not need tickets, and are therefore free of charge
The rest of the payments (£178 + £5 booking fee) are payable in the first week of April 2016 (from 9am Friday 1 April - Thursday 7 April)
Costs for coach bundles: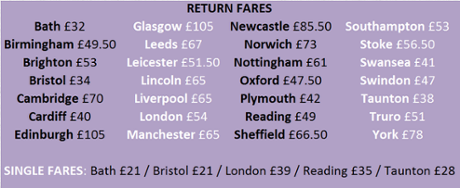 How long have I got?
The speed with which tickets sell out increases each year: in 2012 it took one hour 40 minutes, in 2013 1hr 27mins and last year in just 25mins. Broadband, the See Tickets site and the booking process is getting faster, so prepare yourself for a mad dash. You have 10 minutes to enter your details so there is no time for incorrect passwords, nipping to the loo or faulty Wi-Fi: gear up your phone/iPad/laptop/desktop/potty an hour in advance.
Ticket-grabbing tips
Coach ticket bundles may be easier to obtain than the main weekend tickets (not to mention a much greener option). If you can afford two intensive ticket-chasing experiences, it is recommended to attempt both ticket buying processes.
Don't panic if you don't manage first time. Those who are unable to make the event come April put their tickets back on the market, meaning, come spring 2016, you could still sneak in.
If all else fails
Earn your ticket and work at the event. Take a look at glastonburyfestivals.co.uk/information/jobs for information regarding volunteering and staff job, including tent stewards, bin painters, litter pickers, and wristband staff. And if that's still not a possibility, then keep checking William Hill and attempt to get a crew job with the headlining band: so far the potential options are Foo Fighters, Muse, Oasis and Fleetwood Mac. Get cracking.
This article was written by Harriet Gibsone, for theguardian.com on Wednesday 30th September 2015 15.07 Europe/Londonguardian.co.uk © Guardian News and Media Limited 2010