The adblocking debate might just have been solved with the launch of the Ethical Adblocker.
Adverts suck, and many people would prefer not to see them. But the economics of the internet are such that adverts are also the effective payment for reading free content online (such as this article here).
And so, while blocking ads may make the experience of browsing the web better, it is also morally dubious, lying somewhere on the same spectrum as piracy and theft.
But coder and artist Darius Kazemi may have found the solution. He's invented the Ethical Ad Blocker. The download, he writes, "is a Chrome extension that, when it detects advertising on a website, blocks the entire website.
"This way, the user doesn't experience ads, but they also don't leech free content. Everybody wins!"
Sure enough, visiting an ad-supported website like the Guardian with the Ethical Ad Blocker turned on protects users from seeing adverts, being tracked by advertising, and accidentally reading any content on the site. Instead, an error message pops up: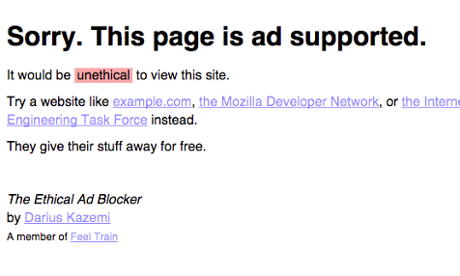 Of course, it's fair to say that Kazemi may not be entirely serious about the whole prospect. The artist, who is most famous for his Twitter bots such as @twoheadlines, tweeted pondering one final addition to the site: gigantic red uppercase text reading "please don't take this literally".
• Hear Darius Kazemi discussing his twitterbots on the Guardian's Tech Weekly podcast
This article was written by Alex Hern, for theguardian.com on Thursday 24th September 2015 09.46 Europe/Londonguardian.co.uk © Guardian News and Media Limited 2010