The economic downturn in China has compounded pressures on UK manufacturers and hit their output and exports, a leading business group will warn on Monday as it slashes its outlook for the sector.
Sales to the domestic consumer market and booming car production have not been enough to make up for a drop in overseas demand, says the manufacturers' organisation EEF. Those manufacturers making mechanical equipment have been particularly hard hit as waning orders from China coincide with flagging demand from the oil and gas sector, itself hit by a plunging oil price.
The trade group is halving its growth forecast for manufacturing this year to 0.7% from 1.5%, citing a "rollercoaster of risks" that include renewed eurozone tensions and a slowdown in emerging markets, particularly China.
EEF chief economist Lee Hopley said that while the overall UK economy looked set for "solid" growth this year, manufacturers were contending with a lower oil price, fragile eurozone growth, and now the blow to global investor confidence from turmoil in China.
"While UK data has continued to point to solid growth, UK manufacturing is having to contend with a rollercoaster of risks from the rest of the world and the white-knuckle ride is starting to take its toll," she said.
"We've seen the future of the eurozone on the line once again, turbulence and uncertainty over China and Greece and, of course, oil and gas are still a concern. Against this backdrop, it's no surprise that confidence is faltering and UK manufacturers are feeling less optimistic about their growth prospects for next year."
The gloomier outlook for manufacturing this year reflects signs of falling production and orders in EEF's latest survey of businesses, as well as a string of other weak indicators in the sector, including official figures showing it contracted in the second quarter.
For the first time in more than two years, there were more companies reporting a drop in output than a rise, according to the EEF survey, published with law firm DLA Piper.
Output falling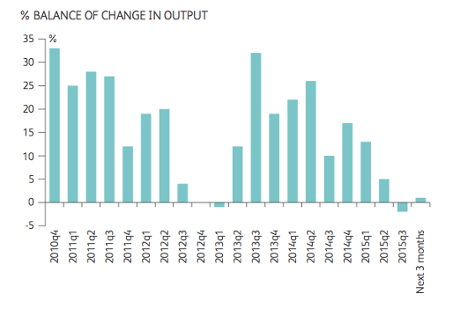 The poll of 442 manufacturers showed that export orders fell to a six-year low in the past three months. Domestic orders were also down, hurt largely by weakness at those manufacturers reliant on the oil and gas sector.
Looking ahead, more than a third of companies reported signs of improving demand in Europe – the UK's biggest export market – but the proportion of companies eyeing growth opportunities in Asia had fallen.
Orders down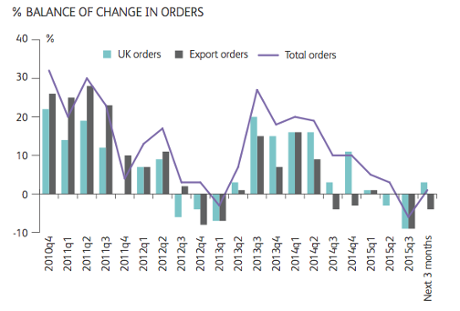 The survey suggested there were still more companies planning to raise investment and employment rather than cut them, but only by a slim margin. Hopley said the extent of any further fallout from China's slowdown would be key for both employment and investment in the months ahead.
"If there isn't something more persistent happening in China at the moment, companies feel they will wash through it. But clearly we are on amber alert for these [employment and investment] balances in the next quarter," she said.
Economists point out China's slowdown has mixed effects on the UK. The downward pressure on oil prices is keeping inflation low and should boost household budgets. Meanwhile, the market turmoil could prompt the Bank of England to keep interest rates at their record low for longer.
But for exporters, waning demand is another blow, on top of a stronger pound, that makes UK goods more expensive to overseas buyers. Manufacturers say that while direct UK exports to China are relatively small, it has been a growing market in recent years. China is the largest foreign market for British cars.
China shock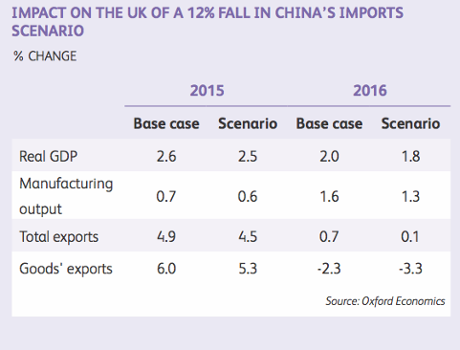 The EEF has analysed what would happen to the UK economy if there was a 12% drop in China's imports, which is equivalent to the decline during the Asian financial crisis in the late 1990s. Such a fall would weigh on UK GDP, manufacturing output and, most notably, on manufactured exports, the group found, using its economic model.
A separate report on the outlook for small businesses also flags deteriorating confidence, but points to domestic pressures. The Federation of Small Businesses says its members are more cautious after George Osborne's summer budget announced changes including taxes on dividends and a "national living wage".
"The reaction to these changes is reflected in the evidence we present today, which shows confidence levels amongst members cooling markedly," said FSB national chairman John Allan.
The group's survey of 1,580 small businesses showed they continued to hire new workers over the last three months, but at a slower rate than the previous quarter. Nearly six-in-10 small businesses, or 58.7%, plan to grow in the next 12 months, down from 65.3% in a poll three months ago.
The poll also pointed to improving access to finance, a pickup in productivity and modest growth in exports.
This article was written by Katie Allen, for The Guardian on Monday 7th September 2015 00.21 Europe/London
guardian.co.uk © Guardian News and Media Limited 2010