The cost of compensating customers, paying fines and legal bills for the world's biggest banks has increased to £200bn, according to research to be published on Monday.
The £200bn, which also includes sums set aside for penalties in the future, is for the five years to the end of 2014. It is a rise of £30bn on the previous five-year period from 2009 to 2013 and has been compiled by CPP Research Foundation, one of the few bodies to collate the data published by banks.
The figures are being published at a time when the conduct of banks before, during and after the 2008 financial crisis is facing intense scrutiny, and ever increasing fines for wrongdoing.
Last month, a record $5.7bn (£3.7bn) of punishments was imposed on six banks for rigging foreign exchange markets, which came after £2.6bn of penalties were announced in November for similar offences. Banks have also been hit with fines for rigging Libor, starting with a £290m fine for Barclays in 2012.
The UK's banks have also been hit by the payment protection insurance (PPI) scandal. A total £25bn of provisions have been taken across the industry while on Friday Lloyds Banking Group was fined £117m for mishandling payouts to more than 800,000 customers.
The 16 banks included in the CCP data have also been impacted by the cost of mis-selling subprime mortgage bonds before the financial crisis. RBS has warned that it is awaiting a hefty settlement with US regulators over the way it sold such bonds before the crisis.
CCP will publish a detailed analysis of each bank on Monday although it provided example of the near £11bn of costs incurred by 79% taxpayer-owned bank RBS during the five-year period.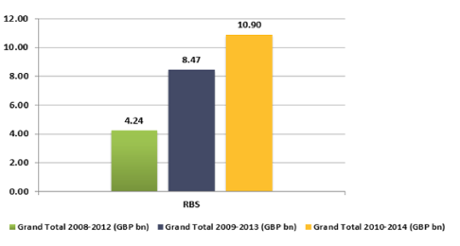 Standard Chartered's £1bn has been included in the tally for the first time. It previously covered 15 banks, including bailed-out Lloyds and RBS, as well as HSBC, Barclays, Bank of America, JP Morgan and Swiss bank UBS.
This article was written by Jill Treanor, for theguardian.com on Friday 5th June 2015 15.18 Europe/Londonguardian.co.uk © Guardian News and Media Limited 2010