The Bank of England has left interest rates on hold at their record low, as widely expected, and financial markets are now looking to governor Mark Carney's appearance on Wednesday for more clues on when borrowing costs will rise.
The Bank's latest monthly announcement on Monday was moved from Thursday last week to avoid a clash with the general election. The nine members of the monetary policy committee met on Thursday and Friday last week and so the outcome of the election would have been clear when they voted to leave interest rates at 0.5%.
The Bank's £375bn programme of quantitative easing (QE), which pumps money into the economy, was also held at the same level.
Bank of England bank rate 1694-2015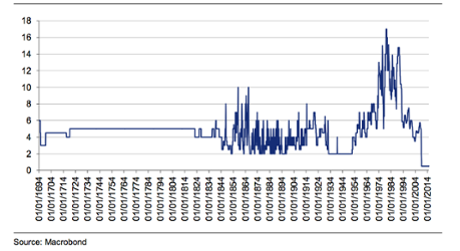 The bank rate has been at a record low of 0.5% since March 2009. For the previous coalition government that meant it was the first administration in more than half a century to enjoy unchanged borrowing costs for its entire term.
Inflation at a record low of zero – well below the Bank's target of 2% – means the new government is also likely to enjoy a loose monetary policy backdrop for some time to come.
Markets are pricing in the first rate hike in about a year's time while most economists expect a move slightly earlier, according to polling by Reuters.
Some experts say the Bank will use its quarterly inflation report on Wednesday to warn markets they are too relaxed about the timing of the next rate hike.
The report and accompanying news conference with Carney could pencil in higher forecasts for future inflation, sending a message that rates will rise sooner than traders are pricing in.
But keeping with the Bank's previous message, Carney will be careful to emphasise that when borrowing costs do start to rise again, they will do so only gradually.
This article was written by Katie Allen, for theguardian.com on Monday 11th May 2015 12.01 Europe/Londonguardian.co.uk © Guardian News and Media Limited 2010