Whatever one quarter's GDP figures show when they are released on Tuesday, the next government should brace itself for a hard landing, according to an economics thinktank.
A report produced by the New Policy Institute (NPI) has described Britain's economy as "unbalanced" and warns that another recession is inevitable unless various issues are addressed.
Despite the fastest economic growth among advanced economies last year, most City analysts expect the UK to have lost steam in the opening months of this year. The consensus forecast is for quarterly growth to come in at 0.5%, down from 0.6% in the fourth quarter of 2014, when the first official estimate of GDP is published on Tuesday morning. Some economists see the growth rate halving to 0.3%, according to a Reuters poll.
Beyond the latest quarter, the NPI's experts see several reasons to believe the UK economy is closer to the end of a period of growth than to the start of a sustained recovery.
In their report entitled Beneath the Bonnet: How Sound is Britain's Economic Recovery? the thinktank looks at headline indicators and conclude that unless imbalances are addressed "another recession is a matter of 'when', not 'if'".
Steve Barwick, one of the report's authors, says:
If the UK economy can be likened to a four cylinder car, then actually not one of its four cylinders is firing as smoothly as it should. Productivity is in the doldrums. Employment is artificially high due to self-employment. Household income growth has been non-existent. Trade deficits are frighteningly high. Look beneath the bonnet and we find the UK economy both weak and unbalanced."
NPI illustrates its conclusions with the following charts:
1. 'Productivity has barely grown'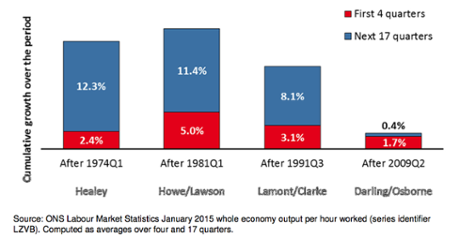 Labour productivity, a measure of what is produced for every hour worked, grew strongly after the recessions in the 70s, 80s and 90s whereas it has barely grown at all since the recession ended in mid-2009, says the NPI report. "Without productivity growth, real wages cannot grow," it adds.
2. 'Weakness behind the employment headlines'

The total number in work and the employment rate are at record levels but the NPI says this is down to the rise in self-employment, income from which has fallen. "The level of zero-hours contracts points to further weakness behind the headlines," it adds.
3. 'Household income has not recovered'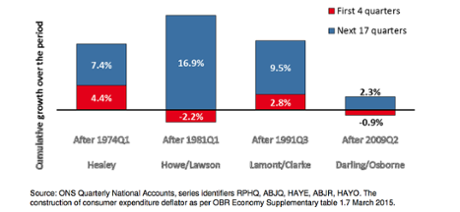 Instead of rebounding as it did after each of the last three recessions, real household disposable income is barely up on where it was in 2009, the NPI says. "This makes sustainable growth, let alone growth that feeds through to good living standards, far from assured," adds the report.
4. 'Imbalances abound'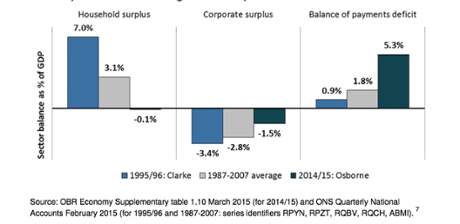 Britain has "a huge balance of payments deficit, a too low level of corporate investment and households spending to the hilt," the NPI report says.
5. 'The coalition scaled back its plan on the deficit'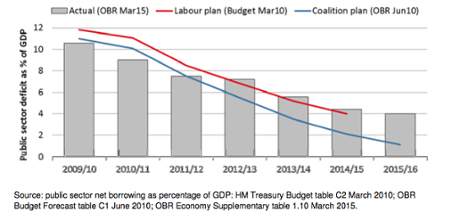 The thinktank says the deficit, 4.8% of GDP in the latest financial year, has not come down by as much as the coalition had planned at the outset. "The coalition followed its own plan for about two and half years but then switched tack after two and a half years of low or no growth," the report says.

This article was written by Katie Allen, for theguardian.com on Monday 27th April 2015 20.58 Europe/London
guardian.co.uk © Guardian News and Media Limited 2010