Britain's inflation rate has held at its record low of zero, giving disposable incomes a boost and leaving the country on the brink of deflation.
The Office for National Statistics said inflation, as measured by the consumer prices index, held at zero in March, unchanged from February, which was the lowest since comparable records began in 1989. Estimates from the ONS suggest it was the lowest reading since 1960.
Statisticians said that if the change in March was calculated to two decimal places, then prices were 0.01% lower than a year before. This would be the first fall on record in consumer price inflation.
The news was welcomed by Chancellor George Osborne as the Conservatives seek to flag up their economic record and play down Labour talk of a "cost of living crisis". But critics of the coalition's economic policy were quick to argue low inflation was a sign of weakness.
Inflation holds at record low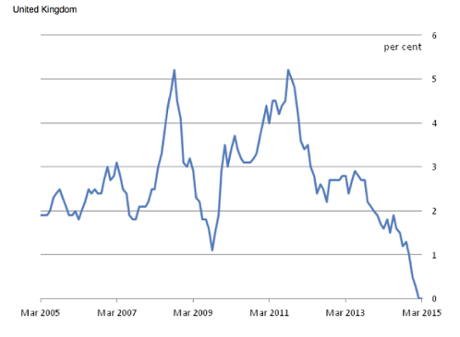 Economists had forecast that the offsetting effects of rebounding petrol prices and a price cut by British Gas would keep inflation at zero in March. But predictions in the poll by Reuters ranged from negative inflation of 0.2% to inflation of 0.1%.
The ONS said the biggest downward effect on the cost of living in March came from falls in clothing and gas prices. These were offset by a rise in fuel prices, as average petrol prices rose by 3.8p in March and diesel by a similar amount against the backdrop of rebounding crude oil prices.
Clothing and gas bill cuts keep inflation low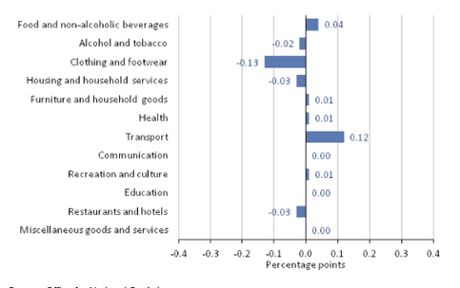 The official figures showed core inflation, which excludes volatile items such as food and fuels, was the lowest since July 2006, falling to 1% in March from 1.2% in February. That came on the back of rare March discounting in the clothing sector. The ONS it was the first time that clothing and footwear prices had fallen between February and March since the consumer price index was introduced.
Economists say the UK is still likely to enter a period of falling prices soon – following in the footsteps of other countries. Eurozone inflation has been negative since December, and the US rate turned negative in January before recovering to zero in February.
Vicky Redwood, chief UK economist at Capital Economics commented:
The UK just avoided deflation in March, but inflation could yet dip into negative territory at some point in the coming months ...

The indirect impact of lower energy prices will take a while to come through and so the core rate could drop further in the coming months, tipping the headline rate below zero. Even if the UK does narrowly avoid deflation, inflation is still likely to hover close to zero for most of 2015."
Bank of England policymakers and City analysts say a bout of negative inflation should not be cause for alarm. They predict it will prove temporary, unlike the deflationary spiral in Japan, where people have lived with falling prices for two decades.
The Bank of England governor, Mark Carney, has sought to allay fears that Britain faces a 1930s-style deflationary spiral, describing the falling oil price as "unambiguously good" for the economy.
Low, or non-existent, inflation means that there is no need to raise interest rates any time soon. The City expects the first rate rise, from the current record low of 0.5%, to come late next year.
The British Chambers of Commerce said low inflation would support the recovery but to sustain business confidence the Bank of England should commit to keeping interest rates on hold until at least early 2016.
David Kern, chief economist at business lobby group commented:
Continued low inflation is good news for the economy, particularly at a time when wage increases are modest and businesses are facing challenges ... If deflation is to emerge it should be short-term because of the strength of the UK's largest sector, the service sector, where inflation remains above 2%."
But the trade unions group TUC viewed the latest figures as evidence of a shaky economic recovery.
The TUC general secretary Frances O'Grady said:
Zero inflation is a mark of the weak condition the economy has been left in by a failed economic plan. Stagnating prices are not a sound foundation for the strong and sustained pay rises that workers have been waiting years for."
There was little evidence of any inflationary pressure in the pipeline in separate ONS figures on prices paid and charged by manufacturers. Factory gate inflation was negative, with prices charged for goods down 1.7% on a year ago, unchanged from the pace of deflation seen in February. Input prices were down sharply on a year ago, falling 13%, a slightly softer pace of deflation than the 13.5% drop in February.
This article was written by Katie Allen, for theguardian.com on Tuesday 14th April 2015 10.23 Europe/London
Factory gate prices fall again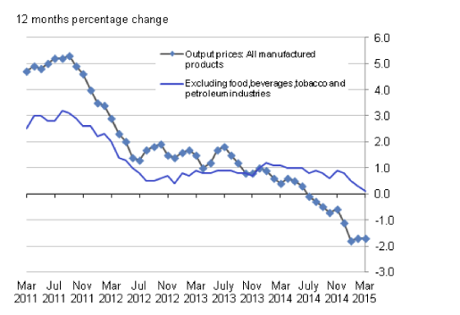 guardian.co.uk © Guardian News and Media Limited 2010