The Bank of England is expected to leave interest rates on hold at 0.5% this week, marking the first time in more than half a century that a government has enjoyed unchanged borrowing costs for its entire term.
Interest rates were slashed to a record low of 0.5% in 2009 in a bid to stem the fallout from the global financial crisis. They have remained there ever since, with ultra-loose monetary policy the backdrop throughout the coalition's time in office beginning in 2010.
Despite relatively solid economic growth over the past year, policymakers are not expected to raise rates until well after the May election.
The last time interest rates were on hold for a longer stretch was between 1940 and 1951 when the UK was ravaged first by war and then by reconstruction efforts, as it was led by a succession of governments (including Clement Attlee, who was prime minister between July 1945 and October 1951). Bank rate was cut from 4% to 2% during 1939 and then stayed there until a hike to 2.5% in November 1951.
Bank of England Bank Rate 1694-2015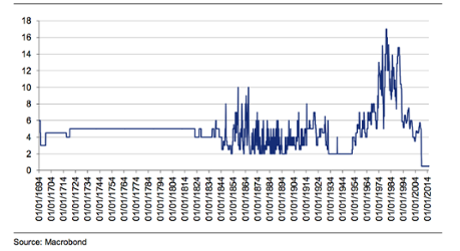 The Bank was given full responsibility to set interest rates by the then chancellor Gordon Brown in May 1997. Seen as the biggest shakeup in the Bank's 300-year history, the move allowed the Bank to set policy free of political influence.
While economists are divided over when the Bank of England will end this current spell of steady interest rates, no one expects the pause to last a decade this time.
A poll of 75 economists by Reuters points to the early months of 2016 as the most likely timing for the first hike, meaning the next government would have some time to settle in before mortgage holders are hit with higher costs. It would also mean rates will have been on hold for almost seven years.
With inflation at a record low of zero and likely to fall further on the back of cheaper oil and other commodities, not one of the 75 economists expects a move when the Bank's monetary policy committee (MPC) announces its latest decision on Thursday.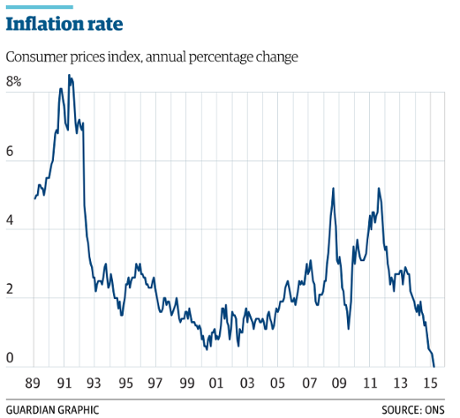 Paul Hollingsworth at the thinktank Capital Economics said: "Thursday's Bank of England interest rate announcement looks set to be another uneventful one. Indeed, with inflation set to turn negative soon and hover around zero for most of the rest of this year, it seems as if the MPC will sit on their hands until they are confident that deflation is not becoming ingrained."
Howard Archer, economist at IHS Global Insight echoed that. "The Bank of England will undoubtedly keep interest rates at 0.50% at the conclusion of its April policy meeting... We believe the odds favour the Bank of England hiking interest rates from 0.50% to 0.75% in February 2016," he said.
But with voter polls pointing to a particularly tight political race, Archer added a note of caution to that forecast: "Any interest rate hike could be delayed if there is prolonged political uncertainty after May's general election and this has a dampening impact on economic activity, particularly business investment."
With inflation low, the Bank's chief economist, Andy Haldane, has raised the possibility of the next move in interest rates being down rather than up. In a speech last month, Haldane said inflation had "dropped like a stone" over the past year and that "policy needs to stand ready to move off either foot in the period ahead." That struck a markedly different tone to the Bank of England governor, Mark Carney, who said the week before it would be "extremely foolish" to cut rates now.
Two other members of the nine-member rate-setting committee, Martin Weale and Ian McCafferty, may even vote for a rise in coming months, returning to a position they held last year. Archer said: "There will most likely be a 9-0 vote again within the MPC for unchanged interest rates, although it would not be a major surprise if Martin Weale and Ian McCafferty went back to voting for an interest rate hike."
The vote will not be known, however, until minutes from this week's meeting are published on 22 April.
This article was written by Katie Allen, for The Guardian on Sunday 5th April 2015 18.25 Europe/London
guardian.co.uk © Guardian News and Media Limited 2010