Bank of England chief economist Andrew Haldane has put himself on a collision course with Mark Carney, the Bank's governor, by suggesting policymakers may be forced to slash interest rates to zero in the coming months to tackle the looming risk of deflation.
Striking a markedly different tone to Carney, who told the House of Lords recently that it would be "extremely foolish" to cut rates now, Haldane used a speech to a business club in Rutland to lay out reasons the nine-member Monetary Policy Committee should be concerned that inflation has, "dropped like a stone".
"On the MPC's central view, inflation will remain close to zero in the near-term, before rising to reach the inflation target over a two-year horizon. The risks to inflation at that horizon are plainly two-sided. But my personal view is that these risks are skewed to the downside," Haldane said. "In my view, that means policy needs to stand ready to move off either foot in the period ahead."
The MPC's collective view is that while inflation is more likely than not to dip below zero before the end of the year, the fall is caused by a one-off cut in the cost of commodities, including oil. As such, policymakers can safely ignore it, leaving interest rates at their record low of 0.5%.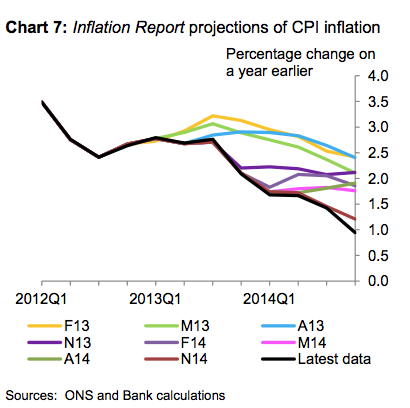 Carney told the House of Lords committee on 10 March: "The thing that would be extremely foolish would be to try to lean against this oil price fall today [and] try to provide extra stimulus to try to get inflation up at this point in time."
Making clear that he was expressing a personal view, Haldane warned that there may be more "drag" on inflation than the MPC has so far acknowledged.
He argued that wage increases are likely to be weaker this year than the MPC expects because an army of workers, including women and the over-65s, are prepared to enter the workforce as jobs become available; and because firms and households are beginning to bank on lower inflation.
"Measured expectations suggest that lower inflation is expected to persist. To the extent this affected wage and price-setting, those expectations could become self-fulfilling," he said. The stronger pound is also likely to constrain price rises, as imports become cheaper.
The MPC's two most hawkish members, Martin Weale and Ian McCafferty, who until January were voting for an immediate increase in rates, have continued to stress that the risks to inflation remain "finely balanced". But Haldane's analysis suggested that view may be complacent.
He also broached the controversial issue of whether the Bank has the right inflation target. He suggested that one way of guarding against the risks of deflation would be for the chancellor to set the Bank's inflation target asymmetrically. This would force it to care more about the dangers of deflation than the risks of rapid inflation. Many other central banks, including the European Central Bank, have asymmetric inflation targets.
Haldane added: "One insurance device comes from the specification of the inflation target itself. Even if the risks to inflation are asymmetric, central banks' inflation targets typically are not. This reduces the risk of monetary policy imparting a "deflationary bias". The MPC's own mandate is crystal clear: deviations above and below the 2% inflation target are to be treated symmetrically."
This article was written by Heather Stewart, for theguardian.com on Thursday 19th March 2015 14.32 Europe/Londonguardian.co.uk © Guardian News and Media Limited 2010