Abnormally low inflation and interest rates are building up new risks for the global economy, a leading thinktank warned on Wednesday, as it called on governments to play a greater role in shoring up the recovery.
The Organisation for Economic Cooperation and Development says in its latest economic health check that low oil prices and loose monetary policy are boosting growth in the world's big economies, but that the near-term pace of expansion remains modest.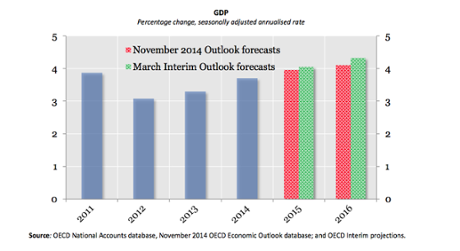 The Paris-based organisation reiterated a forecast made last month that the UK economy will grow 2.6% this year, matching last year's pace but slower than the 2.7% it had been forecasting at its November outlook. The 2016 forecast is for 2.5% GDP growth.
That puts the UK ahead of eurozone neighbours France and Germany, but behind the US, which the OECD sees growing 3.1% this year.
In its latest interim economic assessment the thinktank warns that against a backdrop of better growth prospects for big economies, including in the eurozone, there is a growing risk of financial instability.
Its prime concern is that low borrowing costs and inflation mean activity is driven by easy money rather than fundamentals. The OECD highlights an over-reliance on central bank policy and warns that more needs to be done by governments in terms of tax and spending policy as well as structural changes.
Lower oil prices and widespread monetary easing have brought the world economy to a turning point, with the potential for the acceleration of growth that has been needed in many countries," said OECD chief economist Catherine Mann.

"There is no room for complacency, however, as excessive reliance on monetary policy alone is building up financial risks, while not yet reviving business investment. A more balanced policy approach is needed, making full use of fiscal and structural reforms, as well as monetary policy, to ensure sustainable growth and public finances over the longer term."
The OECD used its latest in-depth report into the UK to warn that more needs to be done to fix the country's poor record on productivity, which it sees as key to raising living standards. The thinktank also had some encouraging words for George Osborne as he heads towards the election – it praised his economic policies and renewed backing for the chancellor's austerity drive.
The group's latest outlook highlighted a boost to the US economy from strong domestic demand, which, combined with a strengthening dollar, was adding to demand in the rest of the world. The euro area should benefit from low oil prices, monetary stimulus and euro depreciation, which "combine to offer the chance to escape from stagnation", the OECD added.
Summarising the outlook for other big economies, the thinktank says:
In Japan, monetary and fiscal stimulus provide the impetus for faster near-term growth, but longer-term challenges remain. A gradual slowdown in China, towards the new official growth target, is expected to continue. India is expected to be the fastest-growing major economy over the coming two years, while the outlook is likely to worsen for many commodity exporting nations, with Brazil falling into recession."
For the euro area, it notes growth prospects differ widely among the big economies of the single currency bloc. The latest forecasts are:
This article was written by Katie Allen, for theguardian.com on Wednesday 18th March 2015 11.28 Europe/London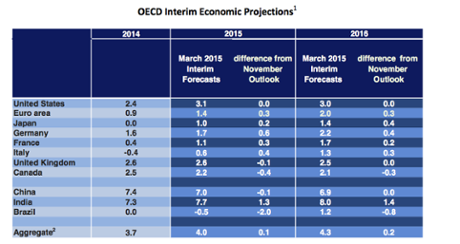 guardian.co.uk © Guardian News and Media Limited 2010