Jimmy Choo, the upmarket shoe brand, is stepping into the FTSE 250 just six weeks after its £550m flotation.
The company's shares – sold at 140p each in the middle of October – have soared by nearly a quarter, and now stand at 172p. It has benefited from a revival of interest in luxury goods brands and the prospects of growth in emerging markets. HSBC recently started coverage with a 180p target price.
The shoes, made famous by Sarah Jessica Parker (Carrie Bradshaw) in the long-running TV show Sex and the City, cost from £300 to £600 a pair. The company has 120 stores and is opening a further 10 to 15 shops a year, most of them in China.
The company was founded in 1996 when former Vogue accessories editor Tamara Mellon persuaded Malaysian shoemaker Jimmy Choo, based in Hackney, east London, to join her and launch a shoe brand in his name.
Both Mellon and Choo left after a string of private equity firms took control of the business, and it ended up in the hands of JAB Luxury, the investment arm of the Germany Reimann family, which bought it for more than £500m in 2011.
In the flotation, JAB sold around a quarter of the company at the bottom end of an initial 140p to 180p range, to boost the float away in what was then a tricky market.
But now it will join the mid-cap index, based on Tuesday's closing price, with index compiler FTSE Group expected to confirm the move later on Wednesday.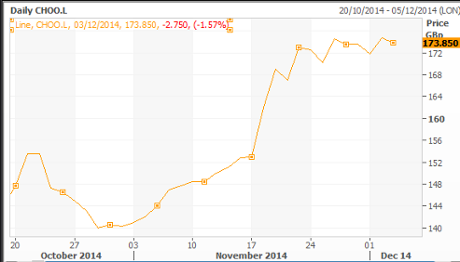 Also joining the FTSE 250 is bakery group Greggs, moving up from the small cap index. With George Osborne giving his latest autumn statement on the same day as Greggs is promoted, this is better news for the company than when the chancellor spoke a couple of years ago when he -introduced the controversial pasty tax in his 2012 budget (albeit temporarily).
Spirit Pub Group is also joining the FTSE 250 but its appearance may be fleeting, since it is being taken over by Greene King.
Allied Minds and CLS Holdings are the other companies to be promoted to the mid-cap index.
Making way and heading for the small cap index are Foxtons, the London-centric estate agency group recently hit by a slowdown in the capital's property prices.
Also demoted are oil services group EnQuest, miner Ferrexpo, Hochschild Mining and Spirent Communications.
In the FTSE 100 it will be the return of the housebuilders, with both Taylor Wimpey and Barratt Developments promoted plus IMI and Petrofac falling into the FTSE 250.
If the changes are confirmed, they will take place from Monday 22 December.
This article was written by Nick Fletcher, for theguardian.com on Wednesday 3rd December 2014 09.50 Europe/Londonguardian.co.uk © Guardian News and Media Limited 2010