Houston met with Carmelo Anthony on Wednesday, greeting him with a picture in a Rockets jersey.
The Houston Rockets are planning the arrival of one big-name player, but they may be forcing another out in the process.
The team put up a billboard of prized free agent Carmelo Anthony wearing a Rockets jersey on Wednesday in an effort to persuade the New York Knick to come to Houston.
In the picture, however, Anthony is wearing the number seven, currently worn by point guard Jeremy Lin.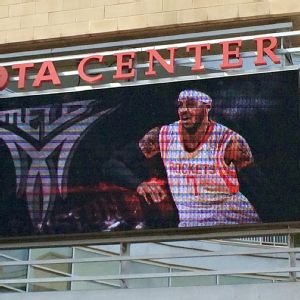 Lin has been rumoured to be on the trade block as the Rockets look to clear enough cap space to lure Anthony or fellow free agent LeBron James. The point guard is set to make almost $15 million next season with a salary cap hit of over $8 million in the final year of his 'poison-pill' contract.
Now the team are making it clear that Lin is unwanted in Houston, but he was measured in his response on Twitter.
Luke 6:29 - If someone slaps you on one cheek, turn to them the other also. If someone takes your coat, do not withhold your shirt from them

— Jeremy Lin (@JLin7) July 2, 2014
Before Houston Anthony had already visited Chicago, where he was met with a picture of himself in a Bulls jersey. Former MVP Derrick Rose, who had previously said that he would not recruit any new players, was a part of the pitch that also included Joakim Noah and Taj Gibson.
Anthony will next travel to Dallas to meet with Mavericks owner Mark Cuban and star power forward Dirk Nowitzki, before making his way to Loas Angeles to visit Kobe Bryant and the Lakers.