Google has just announced a huge update in its Android mobile operating system and here's everything you need to know.
Android L is what they are calling their release preview for the time being, this will likely change once it is officially launched later this year, but what to is anyone's guess. The main feature of Android L was the massive change in design that is coming to some Android phones.
Matias Duarte called Android's new concept Material Design and in fairness it is looking very similar to iOS7. Application's interface has got flatter, and interactive parts of applications like buttons and timelines are elevated to look slightly like cards. They stand out visually as things you can actually interact with thanks to shadowing effect that gives you the sense that what you're interacting with has some depth to it.
To give you a better idea here are two images taken from Gizmodo.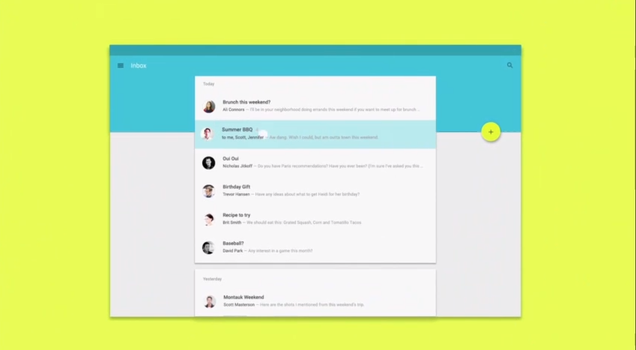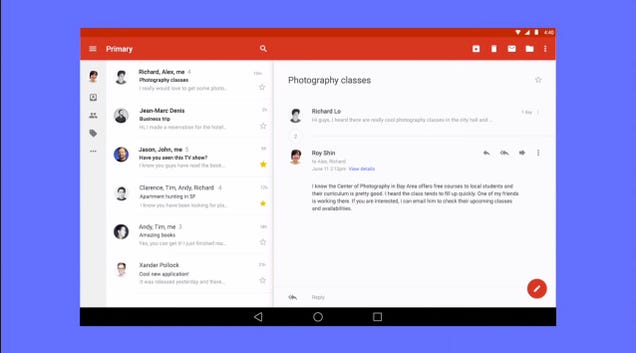 Google is also improving animations in Android L, feedback from buttons will be better and in some cases icons will ripple and pulse when pressed to give the OS that immersive feel.
Notifications have also taken on a bit of an iOS7 look, but interacting with them is slightly different. In Android L you will be able to interact with notifications in you lock screen; double tapping will launch the application and swiping right will dismiss it. Notifications will also now also appear as a banner at the top of your screen, and those can be accessed and dismissed by tapping or swiping it away.
Google Chrome had also been overhauled; it features the new Material Design and a new multitasking interface that shows all of your open windows in overlapping card form factor (again very similar to iOS7). A cool new feature for developers is now if you are browsing to a website that you have as an application, you're Android device will automatically jump straight to the appropriate page in the app.
Google claim performance will be up to two-times better in L and graphics performance could be somewhere near PC-level as early as this fall thanks to the Unreal Engine 4 (we doubt this!).
Battery life in L is getting better for Android users too. A new feature for devs called Project Volta will allow them to see what apps are sucking the battery life and out your smartphone and why. There will also be a battery saving mode in Android L, which we think is pretty cool. It will cut out Wi-Fi and display power but could give you 90 minutes more runtime.