If you're stuck for what to watch on Netflix then join our new series going into our favourite Netflix shows, starting with a cartoon series of true class.
Adventure Time is now in its 6th series having been a huge ratings success for Cartoon Network. Gaining a Simpsons-like position of admiration not just from the kids but also from the adults that watch it Adventure Time reportedly averages 2-3 million viewers per episode and consistently picks up high review scores. If Adventure Time is a show that's passed you by you can catch up with the first series on Netflix, if anything to see what the fuss is all about.
Step into the deeply imaginative and beautifully silly world of Ooo a send up of fantasy role play games complete with dungeons, peopled by anything the creators dream up. Talking confectionary, robots, demons vampires and armoured knights happily coexist in Ooo alongside a group of the most unlikely princesses, a hot dog princess, an embryo princess, the hilarious, brattish floating alien Lumpy Space Princess amongst them. Ooo's princess sorority face some very real dangers but luckily for them the ever-willing heroic pair of Finn and his super-bendy magical dog bro Jake are around to save the day.
Lumpy Space Princess or whatever
Finn and Jake, when not saving princesses or adventuring for dungeon treasure, kick back, rap, beat box, make up songs and play video games. In his early teens in the first series Finn is an over zealous do-gooder with fairly common teenage traits , he knows what's cool despite apparently being the only human in all of Ooo. The Ooo vernacular can swing from thy most formal of highest fantasy tongues to modern US slang full of yos, dudes and bros. This anchors the characters to something more recognisable within the disparate fantasy paradigms floating around in Ooo.
Finn like your normal teenage boy is starting to have crushes on girls and as the seasons progress he gets jealous, makes mistakes and learns to deal with rejection The apple of Finn's eye in the first series, Princess Bubblegum, ruler over the candy kingdom is drawn as independant and strong who along with Marceline the millennia old vampire queen forms a female character that's much more than just a pretty face.
Finn is mentored through life by Jake who is voiced by John DiMaggio who you may recognise as Bender in Futurama. The pair stay tight through their ups and downs and there's a feel-good factor to their relationship.
High fives a-plenty with Finn and Jake
Combine this with some layered characterisations and you get the appeal of Adventure Time, an overtly mad-cap world with some characters way deeper than He-Man and way more believable than Ren and Stimpy that can be just as silly without veering into the grotesque.
Behind all the colour and hilarity is some great music often recalling retro synth sounds. The many songs which pop up sometimes as little narrative asides often get a laugh,
Adventure Time has also drawn numerous celebrity cameo voice parts. George Takai of Star Trek fame takes to roll of Ricardio which seems to have kicked off a trend wtih ex-Star Trek actors, Jonathan Frakes, Levar Burton and Marina Sirtis all adding their talents in later shows. Matthew Broderick also plays a roll as does Luke Skywalker himself, Mark Hamill.
The first series introduces many of the much loved characters tha have stayed with the series. You meet the slightly sad yet persistent bad guy the Ice King, Finn and Jake's video games console BMO, the motherly pie making elephant Tree Trunks, Princess Bubblegums unlikely butler with satanic connections Peppermint Butler and the uptight and totally bizarre Lemongrab.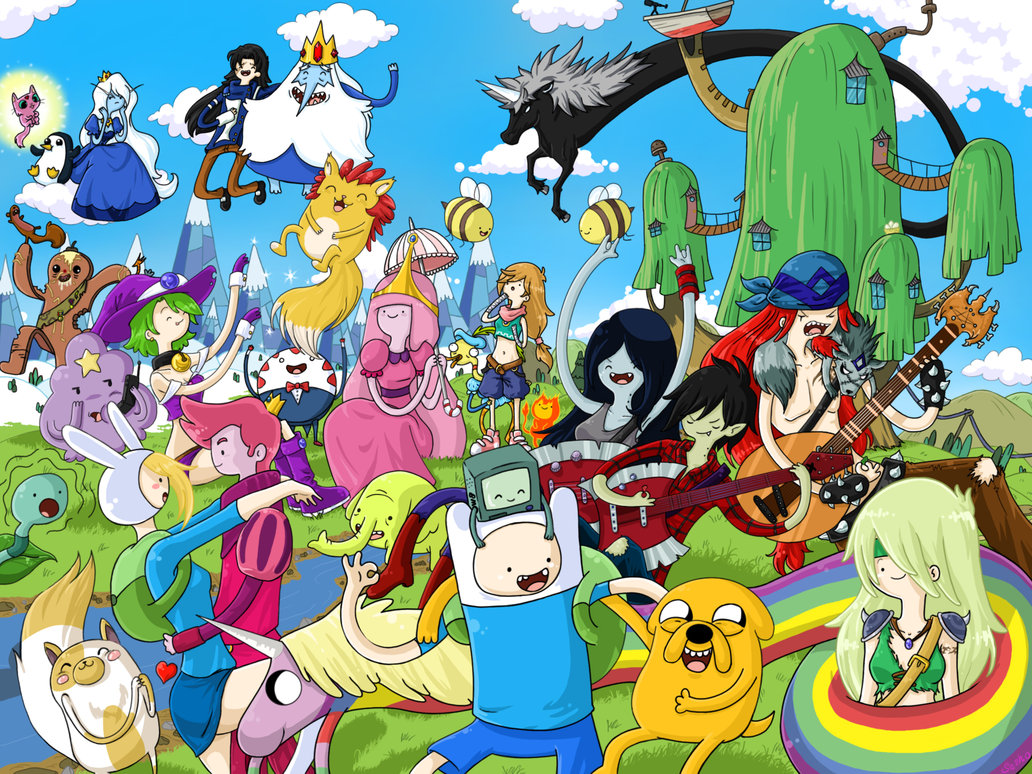 Some of Adventure Time's most loved characters
Our highlight episode from the first series has to be "Finn Meets his Hero" in which Finn and Jake meet their aspirational roll-model Billy, Billy's song which in a strained hair metal style recants his tales including when he slayed an evil ocean gets a laugh every time and Finn and Jake's attempts to be non violent heros end with hilarious consequences.
Whether you're new to adventure time or a long time fan please do leave a comment below to let us know what you think of the show.