City centre traffic brought to a standstill at times today.
Uber, a new app that allows users around the world to book a ride on licenced taxis and minicabs has spurned an organised protest from London cabbies who parked up around Trafalgar Square today blocking traffic. The cause of the outrage from black cab drivers is down to Uber's pricing functionality which uses GPS to work out the fare price based on distance travelled.
The Licensed Taxi Drivers' Association hold that this is merely another form of taxi meter which legally private cars and minicabs aren't allowed to have.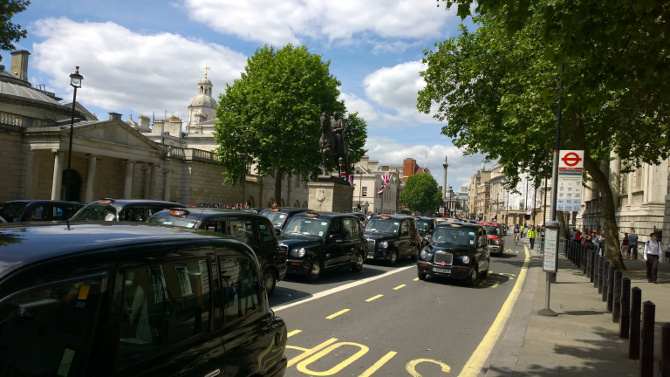 Uber has already met legal challenges in the US with cab firms arguing that the mobile app will lead to illegal and unregulated Taxi services with a lack of accountability from drivers.
Supporters of Uber among them Neelie Kroes Vice-President of the European Commission think Uber-resistant cabbies need to move with technology.
Writing in response to today's demonstrations Kroes seeks to remind protesters that, "The fact is that digital technology is changing many aspects of our lives. We cannot address these challenges by ignoring them, by going on strike, or by trying to ban these innovations out of existence."
"That is why a strike won't work: rather than "downing tools" what we need is a real dialogue where we talk about these disruptions caused by technology."