The Pompey supporters trust today celebrate their first year being in charge of the largest fan owned club in the UK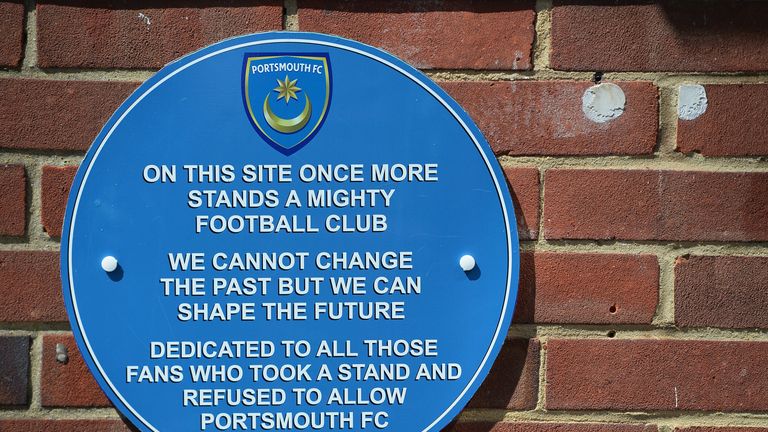 "On this site once more stands a mighty football club. We cannot change the past but we can shape the future. Dedicated to all those fans who took a stand and refused too allow Portsmouth FC to die."
Those are the words inscribed on a placard outside Fratton Park. A reminder of how close the club came to extinction.
It was a year ago today that Pompey was saved by those who cherish the club most: its supporters. A group of dedicated and passionate fans battled foreign owners, the high courts and rival suitors for ownership of the south coast side.
The story of the great battle has been told over and over, but one year later and the fans are no longer dancing jubilantly like they were April 10th last year. The club have struggled to get to grips with League Two and have been in a relegation dogfight for much of the season.
Guy Whittingham failed to steady the Pompey ship and was relieved of his duty last November. Four months and 20 games down the line the club also parted ways with his successor Richie Barker with the side sitting 22nd in the table and the prospect of dropping out of the Football League was looking like a real possibility.
Sacking Barker and installing Andy Awford as caretaker manager seems to have done the trick for Pompey as they have won both of their games since Barker's dismissal. However they are still precariously poised in 19th, five points from the drop with five games remaining.
Chairman of the PST Ashley Brown issued a rallying cry after Barker's sacking saying: "We have to stay up, and we have seven games to do it. We believe the squad is good enough, and we are confident Andy can get the best out of the players and help us preserve our League status.
"The next few weeks are vitally important for the club, and we know our fantastic fans who have shown incredible patience and support in this difficult and frustrating season will get behind us and we will all pull together."
Pompey supporters who have voiced their displeasure at the state of matters on the field will at least be buoyed by the massive improvements that have happened off the pitch. The balance sheet and cash flow is now very healthy, the business is being run very safely and sensibly revenues are up and costs are going down.
Ashley commends the hard work of the backroom office staff that have made this possible: "It's the guys here at the offices that are really having to do the work and we went though a period where we had no team and no manager, we had no kit deal when everyone else had already made their kit months before.
"We had a ground that wasn't necessarily ready for the start of the season. We had no sponsorship; we brought all the catering in house.
"Basically we almost had to start everything from scratch so it was an incredibly tough time. Considering all those things that had to be done at the same period by a very small number of people I think we achieved a huge amount."
The PST's long-term goal for Pompey is the get them back to the Championship sooner rather than later and it's a goal that chief executive Mark Catlin doesn't feel is too unrealistic for the 2008 FA Cup winners.
Catlin said: "We can and should progress under this system, and reaching the Championship is a real possibility. With the budgets we've set out promotion from League Two should come sooner rather than later, and League One we should be able to give a real good go.
"The Championship is a difficult one, as you've got clubs who are living off large parachute payments from the Premier League and others who are backed by billionaire benefactors.
"I've meticulously gone through the calculations including revenue from a packed Fratton Park every week, good commercial income and good sponsorship deals and with the squad we could afford then we could possibly survive in the Championship."
The Pompey supporters trust would have found it exceedingly difficult to survive without the help of Supporters Direct, which is an organisation that gives guidance and help to football club trusts all of over the United Kingdom.
They helped the PST broker meetings with the Football League, set out a sensible and feasible long-term strategy and advised them on implementing the community shares scheme, which has seen the PST raise approximately £2.5 million.
Kevin Rye who is the spokesperson of Supporters Direct said: "Without the Portsmouth fans you cannot make that happen, so they are the most important group in all of this. The work that we did created a framework for them and gave them confidence to go out there and do these things.
"We would never talk ourselves up to a ridiculous level, but were we not to exist Portsmouth would have had to have found there own way and we wouldn't wish that on anyone."
Portsmouth certainly have a long and hard fight on their hands if they are ever to reach the heights of years gone by, but if there was ever a fanbase due a good bit of fortune it's that of Portsmouth football club.