87 percent of users who own an iPhone, iPad or iPod touch are currently running the latest version of Apple's mobile operating system.
Seven months after its original release iOS 7 adoption continues to gradually grow amongst Apple's mobile device users. Apple's App Store developer support page released the results earlier today, two months ahead of the expected announcement of iOS 8.
The statistics show that 87% of users are running iOS 7, just 11% still have iOS 6 installed and only 2% are running iOS 5 or earlier software on their iPhone, iPad or iPod.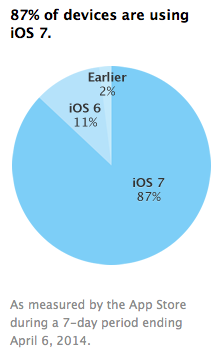 iOS 7 saw a complete overhaul of operating system with the design taking a much flatter design. Early adoption rate wasn't as high as expected with large numbers of users reporting the software as buggy.
Since December the adoption rate has grown 17% as Apple released stabilisation updates, most notable the 7.1 update that was released early March.
This is in stark contrast to Google's latest figures, only 5.3% of its users are running the latest version of the Android operating system, KitKat, which was launched last October.
It is expected that Apple will announce iOS 8 at their annual World Wide Developer Conference in around eight weeks time. iOS 8 is rumoured to feature a new application that monitors health called Healthbook, and also improvements to Siri and Maps.