A new image released this week has depicted how the opinion on Manchester United boss David Moyes and Arsenal manager Arsene Wenger has changed.
Moyes left Everton for Old Trafford last summer as he took on the unenviable task of replacing Sir Alex Ferguson, but his tenure so far has been predictably tough, with United languishing in seventh place in the Premier League table, whilst they also face an uphill battle in the Champions League, trailing 2-0 to Olympiacos from the first leg.
A top four finish is now all but impossible, with the Red Devils sitting 12 points behind local rivals and fourth placed Manchester City. Fans have been piling the pressure on Moyes lately, particularly after their embarrassing 3-0 defeat to Liverpool on Sunday.
Meanwhile, long time rivals Arsenal had a terrible start to the season, losing 3-1 to Aston Villa on the opening day of the season after a quiet summer in the transfer market, but have turned their season around to mount a sustained title challenge. The Gunners are four points behind London rivals Chelsea in the Premier League title race, but have a game in hand on the leaders.
They are also in the last four of the FA Cup, which contains opponents Wigan Athletic as well as Hull City and Sheffield United, making Arsenal the clear favourites to lift the trophy again - which was their last silverware back in 2005, ending a nine year drought.
But with both managers constantly under pressure to deliver silverware at two of England's biggest clubs, Gravity Thinking put together a chart to show how many fans on Twitter had been tweeting either #MoyesOut or #WengerOut to show their displeasure with their manager.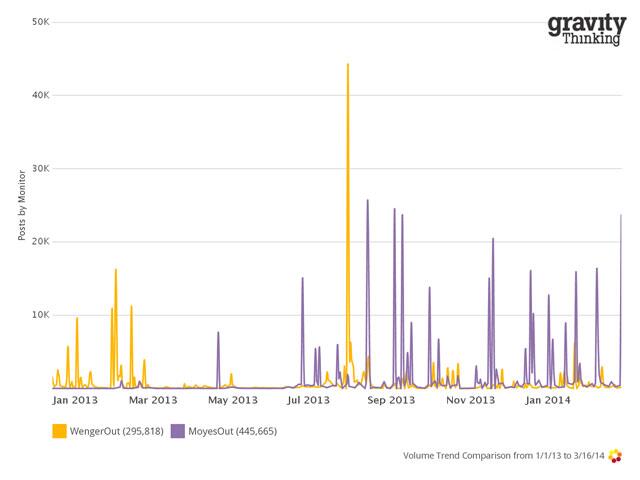 The graph shows that whilst Moyes was with Everton, there were very few #MoyesOut tweets, but the Wenger criticism was bubbling under the surface until it erupted in August 2013 - when Arsenal missed out on a number of signings and lost the aforementioned game to Aston Villa, but that has quietened down whilst the Gunners have been mounting a title challenge.
Meanwhile, the #MoyesOut tweets have been incredibly popular during the season, and has shot up once again since United's defeat to Liverpool. It's also interesting to see that there have been 150,000 more #MoyesOut tweets than #WengerOut tweets during the span shown, and whilst Arsenal fans are generally called fickle, United's chart shows a lot of fluctuation.