Arsenal and England youngster Jack Wilshere has been charged by the FA with misconduct following his offensive gesture aimed at Manchester City fans in the Gunners' 6-3 defeat at the Etihad on Saturday.
The 21-year-old Gunners midfielder has accepted the charge by the FA for his offensive gesture, a middle finger shown to the home fans at the Etihad last weekend and he could face a two-game ban from the authority which the club have disputed.
If the club's appeal against a two-match ban is unsuccessful, the youngster will become the first player to receive a two-match suspension for such misconduct – in the past Wilshere's offence would have earned him a one-match ban.
The panel that review incidents such as this are given the authority to retroactively punish players for incidents the referee did see during the game but did not award sufficient punishment for such as a yellow or red card.
The FA changed the rules, which originally stated that the panel could not retroactively punish a player for an incident, which the match officials had seen and dealt with at the time after Wigan midfielder Callum McManaman's horror tackle on Newcastle's Massadio Haidara back in March of this year.
McManaman's tackle, which you can see here, is not altogether dissimilar from this challenge in Saturday's clash at the Etihad…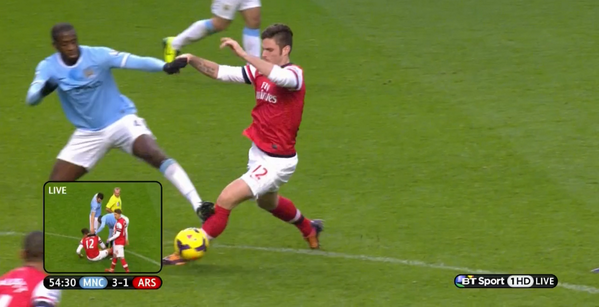 Manchester City midfielder Yaya Toure's challenge on Arsenal striker Olivier Giroud has not received the same level (or any level) of media attention that Wilshere's offensive gesture has and thus, it would seem the FA are less interested in punishing dangerous foul play than they are insolent hand gestures.
Which is worse? Toure's tackle could have been a leg-breaker given that it's high and reckless and certainly, if the referee had have seen it, could have warranted a straight red card. However, referee Martin Atkinson failed spot the challenge at all and it seems the FA have been equally as negligent as their match official.
image: © Ronnie Macdonald