The Champions League group stage is over, and a number of fine goals were scored on Tuesday and Wednesday.
Without further ado, here are the top five goals of the week, starting with No. 1...
1. Luka Modric (Real Madrid) vs Copenhagen

The score between the Spanish giants and the Danes was 0-0 until Modric picked the ball up just outside the area, Cruyff turned away from two defenders before unleashing an unstoppable shot into the top corner. Real went on to win the game 2-0, with Cristiano Ronaldo sealing the win.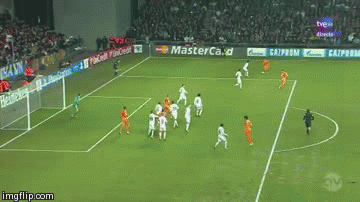 2. Raul Garcia (Atletico Madrid) vs Porto

Atletico Madrid continued their great start to the season after winning Group G, dropping just two points in the process. Midfielder Raul Garcia opened the scoring in their 2-0 win over Porto, turning inside the area and hammering a left footed shot in off the crossbar.



3. Neymar (Barcelona) vs Celtic

With Lionel Messi out injured, the creative and goalscoring responsibility now lies with Neymar, and the Brazilian stepped up against Celtic. His superb hat trick against the Scottish champions showed his incredible talent, particularly with this goal as his quick leave Efe Ambrose for dead, and despite a valiant effort to clear the ball, Neymar slotted the ball home.



4. Wesley Sneijder (Galatasaray) vs Juventus

The weather-hit fixture between Galatasary was finely poised, until Didier Drogba's flicked on was met by Wesley Sneijder, who controlled and placed the ball past Gianluigi Buffon to send the Turks into the knockout stages. The late goal gave Juventus no time to recover, as the Serie A giants crash out in the group stage.



5. James Milner (Manchester City) vs Bayern Munich

The shock of the week came in Munich, as Manchester City came back from 2-0 down to earn an incredible 3-2 comeback win. The winning goal was scored by James Milner, as the England international was found at the back post and curled a fantastic effort into the far corner.
image: © Jan S0L0