Manchester United striker and former Arsenal captain Robin van Persie should be afraid. Very afraid…
The Dutch ace will line up against his old chums on Sunday as the champions host the Gunners at Old Trafford. However, there is one reunion Van Persie should beware more than any other.
He should avoid at all costs a meet and greet with defensive midfielder Mathieu Flamini who resigned for the North Londoners this summer on a free transfer five years after leaving on a free transfer to sign for AC Milan where he did this…
...Which resulted in this…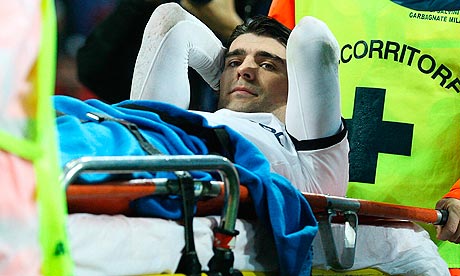 In 2011, Flamini took out Tottenham Hotspur defender Vedran Corluka – the Croatian had to be stretchered off after the two-footed lunge which earned the Frenchman a yellow card and saw Corluka miss nearly two months of the season with the resulting ankle injury.
Van Persie will know very well how Flamini operates – the pair were at Arsenal together for four years after both arrived in 2004. I doubt there'll be any hard feelings between the pair but, just the same, Van Persie ought to steer clear of the man who'll likely be tasked with marking him on Sunday.
See also: Arsenal broke a 9-year record on Wednesday...
See also: How have Arsenal progressed since 8-2 at Old Trafford?
image: © Doha Stadium Plus