As Manchester united prepare to face Norwich City in the League Cup on Tuesday evening, Vincent Ralph predicts David Moyes' starting line-up.
Gone are the days of wholesale changes and starry-eyed youngsters turning out for Manchester United in the early stages of the League Cup.
With David Moyes fully aware that a trophy of any sort (and no, the Community Shield does not count) will settle the nerves after a shaky start to his tenure, he will see the League Cup as the easiest and most-swiftly attainable.
That is not to say winning it will be a cake-walk; only that with Liverpool gone and Arsenal or Chelsea soon to follow, he could at least reach the semis with a favourable draw.
LIVE Premier League match alerts to your phone - goals, red cards, half and full-time scores
On Tuesday, United come face to face with Norwich City in the fourth round; and after dispatching of Liverpool last time out, many of those players will hope to play against the Canaries.
Given Ryan Giggs' outstanding performance against Real Sociedad, he may be rested for the bigger games to come – including the return match against the Spaniards. While Shinji Kagawa finally appears to be in Moyes's first-team plans so may sit this one out.
I am expecting Wilfried Zaha to be given a chance (at least from the bench) to show what he can do, prior to an almost certain January loan move. But if Adnan Januzaj also starts it will be interesting to see if Moyes entrusts both youngsters to occupy the wide positions from kick-off.
Michael Carrick may need a rest but I see can see him partner Anderson in United's midfield, while Wayne Rooney's form and influence surely renders him un-droppable.
Here is how I expect United to line up on Tuesday evening: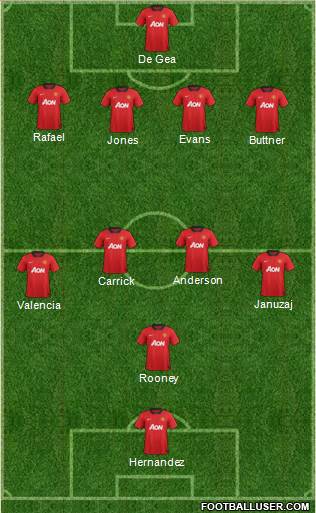 Do you agree with the XI above? If not, who would be in your team?
image: © Gordon Flood