Here is how we expect United to line up in the Champions League on Wednesday.
After just nine competitive matches in charge of Manchester United, the word 'crisis' is already being used in some quarters to describe David Moyes' first shaky steps in what really could be the impossible job.
But in football there is always another match, and with it another chance for redemption.
The latest comes in the Champions League – a competition that Moyes has already written-off as a pipe-dream, having declared that his side does not contain the world-class players required to clasp old Big Ears come May.
But a group match away to Shakhtar Donetsk is a chance for the United boss to show he can hack it in the more distant reaches of a competition he has limited experience in. So who will he pick as he attempts to prove his worth?
After sticking with many of the side that defeated Liverpool in the League Cup for Saturday's game, I expect Moyes to re-call some of the big names for a match United simply cannot afford to lose if they do not want the alarm bells to become deafening.
Nemanja Vidic and Patrice Evra are likely to return to the defence, with Marouane Fellaini taking his place in the middle and Robin van Persie returning to the starting line-up after his slightly baffling dalliance with the substitutes' bench on Saturday.
Shinji Kagawa did enough in the first half of that match to warrant another start, but he is unlikely to get one; while Moyes has a decision to make over Rio Ferdinand, and whether Vidic and Jonny Evans can form an effective and long-term partnership should the former England international be dropped.
Below is how I expect United to line-up on Wednesday. Let me know if you agree.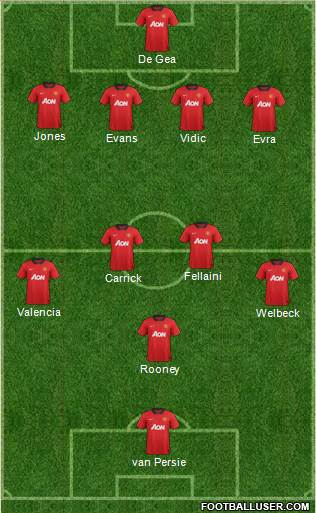 image: © andyjakeman