With the Spaniard continuing to be linked with a move to United, where would he fit in the team?
With the imminent arrival of Willian at Stamford Bridge, Chelsea's midfield is starting to look a tad overcrowded. And while Jose Mourinho has made it clear Juan Mata is going nowhere, the rumours linking him with Manchester United may not be as fanciful as first thought.
Chelsea's midfield is arguably the best in the Premier League. Manchester City may have something to say about that, but the reality is Mourinho can call on some of the most exciting midfield talents in Europe.
If Willian joins those ranks, that will be at least six players competing for three positions.
Andre Schurrle's arrival and Kevin De Bruyne's return make team-selection even trickier for the Portuguese. And while it is a good problem to have, it may be impossible to keep everyone happy.
While Mourinho will know the team takes precedence over the whims of an individual, he will also know his midfield is not the problem. It is his strike-force that needs rejuvenating, and it is easier to part with one outstanding player when you have a veritable truck-load of them.
Any deal for Mata would surely be on the proviso that Wayne Rooney would go the other way. And while many United fans would be against that, they have to ask themselves if they can afford to miss out on the type of midfielder that could reinvigorate them both domestically and in Europe.
If David Moyes can call on the attacking trio of Mata, Robin van Persie and Shinji Kagawa, they are just one defensive midfielder away from being not just ruthlessly efficient, but also being in possession of the creative sparks necessary to elevate them to the head of Europe's top table once more.
Kagawa is yet to be used consistently and effectively by United. But having had a year to settle, the Japanese play-maker must now be given the chance to excel as he did at previous club Borussia Dortmund.
While some may claim he and Mata could not play in the same team, Chelsea have shown the potentially devastating effects of a highly-creative, interchanging attacking midfield. It requires stability and composure behind it, which in United's case would come from Michael Carrick, Tom Cleverley and, ideally, a new defensive midfielder.
And given the need for quick width and adaptability, Danny Welbeck gets the nod for his work-ethic, continual improvement and ability to interchange with those around him. In years to come, Adnan Januzaj could be added to those options; while both Antonio Valencia and Wilfried Zaha could also be used effectively in that formation while negating none of their strengths.
It may all be unfounded speculation, or there may be a hint of truth to the stories linking Mata with a move, but either way, here is how United could line-up if they do sign the Spaniard.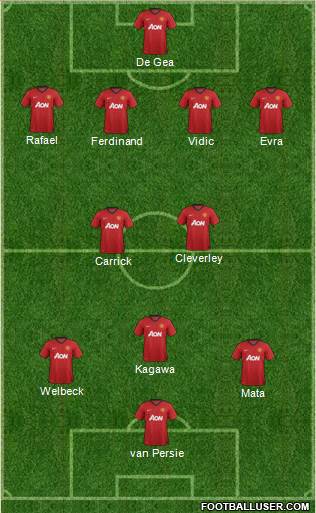 Do you agree with the line-up above? If not, how would you use Mata if he came to Old Trafford?
images: © Wshjackson, © Ben Sutherland